Bronx Storage Rental

Storage Made Easy: Finding the Best Bronx Storage Rental for Your Needs
When it comes to choosing a storage rental service in the Bronx, there are several factors to consider. With so many options available, it can be overwhelming to make a decision. In this guide, we'll outline the key factors to consider when choosing a storage rental company in the Bronx and why Moishe's Self Storage should be at the top of your list.
Location
Location and convenience are most important when looking for a storage rental unit in the Bronx, NY. Moishe's Self Storage has several locations throughout the Bronx, including a convenient location on 840 E 134th St, Bronx, NY 10454. This location is easily accessible by car, public transportation, and walking. They also offer free off-street parking at all their locations.
Cost
The cost of the storage rental service is another factor to think about. You need to be sure that your money is well spent. With prices starting at $59 and a variety of payment plans to choose from, Moishe's Self Storage can work with any budget. You may save even more money with their long-term storage discounts and referral programs. In addition, they guarantee to match any competitors' prices, ensuring your complete confidence that you're obtaining the lowest price available. Moishe provides online billing and payment solutions for the benefit of its customers.
Security Features
When storing your belongings in a Bronx storage facility, security should be a top priority to ensure your items are always safe and secure. At Moishe's Self Storage, we take security seriously with a variety of safety features. We offer 24 hours and 7 days a week of surveillance, and electronic access controls and employ on-site security personnel.
Unit Size
For the protection and safety of your possessions, you must rent a storage unit of the appropriate size. Sizes range from lockers to storage spaces large enough for a full family at Moishe's Self Storage. To ensure you get the exact fit for your requirements, they also provide custom sizing options.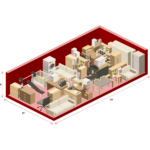 Unit Sizes available:
·        4×4 personal storage
·        5×3
·        5x 5
·        5×7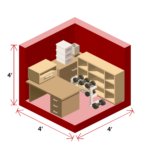 ·        5×10
·        6×10
·        8×10
·        10×10
·        10×12
·        10×15
·        10×20
We offer a room size calculator to help you find the right size room for your personal or business needs
Business Storage and Workspace
Moishe offers business clients a variety of storage options. Whether you're a home-based freelancer in need of some additional space, a business looking to store some unused equipment, or a business needing to archive some old files, we have the storage unit that's right for you. Both climate control and 24-hour security are standard in all of the units. Don't lose sleep over a lack of room to keep your belongings; we've got you covered.
At both our Bronx and Queens locations, you may choose from a range of room sizes that are ideal for conducting business. Electricity and Internet access may be connected to your room as per your specifications. There is no need to compete for shared office space with other companies when your own private, closed office is available. We pride ourselves on having prices that are both fair and cheap.
You may choose from several different conference rooms, giving you lots of options for holding your next important gathering.
Additional Amenities
Finally, consider any additional amenities that a storage rental service may offer. Moishe's Self Storage offers a range of amenities to make storing your belongings as convenient as possible.
·        Packing Supplies available for purchase
·        Carts and dollies available for moving-in help
·        Double-wide elevators to help with moving larger items
·        Free pick-up service and truck rentals if you are located within the NYC 5 boroughs and rent a room for a minimum of three months, we'll pick up your items and transport them to your storage unit for free. Available in room sizes up to 5 x 10. Cannot be combined with other offers.
Why Choose Moishe's Bronx storage rental
For over 35 years, residents of the Bronx and its neighboring regions have been able to rely on Moishe's Self-Storage for all of their storage needs. Their number one priority is the happiness and contentment of their customers. Everything is safe, clean, and well-maintained in their buildings. To make keeping your possessions as easy as possible, they provide a large choice of unit sizes, reasonable prices, and several practical features. You may shop with confidence knowing that they will match any competitor's price since they have a price match guarantee.
Location, price, security, unit size, and extra amenities are all significant factors when selecting a storage rental business in New York.  In the Bronx, Moishe's Self Storage is the best option because they provide all of the above and more. You can get more information about their offerings and set up a visit to their facilities by calling them today.