Business Storage Units Near Me
Business Storage Units Near Me: Unlocking Efficiency with Moishe's Self-Storage 
In the bustling city of New York, space is a precious commodity. From cramped office spaces to jam-packed storefronts, businesses here face a constant challenge – where to store it all? Enter Moishe's Self Storage, your local ally in optimizing your business storage needs. Let's dive into why business storage units near you could be the game-changer your NYC business needs.
1. City-Smart Space Management
New Yorkers know the value of every square inch. With business storage units near you, you can declutter your workspace, making room for what truly matters – productivity. Whether you're a small boutique or a large corporation, Moishe's Self Storage offers a range of New York storage unit sizes, ensuring you pay only for the space you need.
2. Archive and Document Management
NYC businesses often deal with heaps of paperwork, from tax records to customer invoices. Instead of letting those files eat up your office space, consider business storage. Moishe's units are equipped with secure access, so you can retrieve essential documents whenever you need them.
3. Seasonal Inventory Solutions
Seasonal retail fluctuations are a reality in the city that never sleeps. Stash your off-season inventory in a business storage unit. When the holiday rush hits, you'll have quick and easy access to your goods, allowing you to capitalize on those peak sales opportunities.
4. Secure and Accessible
Security is a top concern for New York businesses. Moishe's Self Storage understands this need, offering state-of-the-art security measures, including surveillance, access control, and on-site personnel. Your business assets are safe and sound, and you can access them whenever you please, even outside regular business hours.
5. Cost-Effective Flexibility
In a city known for its high rents, business storage units in Manhattan and the other boroughs of NYC can be a cost-effective alternative. You don't need to commit to long-term leases, allowing you to adapt your storage needs to your business's changing demands. Moishe's offers competitive pricing that fits your budget.
6. Inventory Overflow Solutions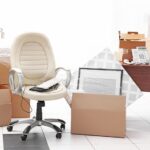 Running out of storage space for your merchandise or equipment? Moishe's business storage units are the ideal solution for managing overflow. Keep your business space clutter-free, ensuring a welcoming atmosphere for your customers and employees.
7. Business Relocation Made Easy
New York's ever-evolving landscape means businesses sometimes need to relocate or downsize. When that time comes, Moishe's Self Storage offers short-term storage solutions for a smooth transition. Store your assets while you finalize your move, and then retrieve them when you're ready to settle into your new space.
8. Flexibility for Businesses of All Sizes
Whether you're a startup, a family-owned business, or a large corporation, Moishe's Self Storage welcomes businesses of all sizes. Our tailored storage solutions cater to your unique requirements, ensuring your business operations run seamlessly.
9. Reclaim Your Workspace
Is your office cluttered with old equipment, unused furniture, or outdated marketing materials? Free up valuable workspace by moving these items into a business storage unit. A clutter-free environment can enhance creativity and productivity.
10. Be Ready for Anything
In the city that never sleeps, opportunities can arise at any moment. Having a business storage unit "near me" means you're always ready to respond to changing business conditions. Whether it's sudden inventory needs or emergency equipment storage, Moishe's has you covered
Moishe's Self Storage – Your NYC Business's Space Solution   
Businesses in New York City face unique challenges when it comes to space management. Business storage units near you, provided by Moishe's Self Storage, offer a practical and cost-effective solution. Declutter your workspace, secure your assets, and streamline your operations. Moishe's Self Storage is your trusted partner in unlocking efficiency and productivity for your NYC business. Get in touch with us today and see how we can help your business thrive in the Big Apple.