Cheap Long Term Storage
Moishe's Self Storage: Your NYC Cheap Long Term Storage Solution 
Hey there, fellow New Yorkers! If you're on the hunt for a storage solution in the metro NYC area, look no further. Moishe's Self Storage has been serving our great city for over 30 years, offering the perfect cheap long term storage answer for businesses and individuals alike.
1. Citywide Convenience
Finding space in the city that never sleeps can be a real hassle. Moishe's offers over 20 different unit sizes in New York, including customizable options, making it easy to find the perfect fit for your storage needs. Whether you're a business owner or a city dweller with limited apartment space, Moishe's has got you covered.
2. Personalized for NYC Life
Moishe's understands that in NYC, you might be running a business out of a shoebox-sized storefront or living in an apartment that's more like a cozy nook. That's why we offer unit sizes from mini to full-sized to cater to your needs. From personal treasures to commercial goods, we've got the space for it all.
3. Affordable and Quality Service
In the city where every penny counts, Moishe's Self Storage provides top-notch storage at prices that won't break the bank. We believe that affordability shouldn't come at the expense of quality, and we've proven that for over 30 years. Click here for our specials.
4. Security That's Second to None
New Yorkers value security, and so do we. Moishe's boasts state-of-the-art security features, including 24/7 video monitoring, motion detectors, security checkpoints, and burglar alarms that would make any bank envious. Your belongings are safe with us.
5. The Longest in the Industry
Our customers stick with us for an average of four years – the longest in the storage industry. Why? Because we're more than just storage; we're your storage partner. Our account managers are here to assist you from 7 AM-7 PM on weekdays and 8 AM-5 PM on weekends. We go the extra mile to ensure your storage experience is hassle-free.
6. Stress-Free Luggage Storage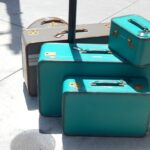 Cheap luggage storage in NYC? Think again. Moishe's Self Storage offers high-quality, secure luggage storage at affordable prices. When it comes to security, we don't cut corners. Our facilities are modern, equipped with high-tech security systems, video monitoring, and motion sensors – because your valuables deserve the best.
7. Climate-Controlled Comfort
Don't let the city's sweltering summers or damp conditions threaten your belongings. Our climate-controlled storage units maintain a constant and comfortable temperature, ensuring your personal items stay safe and dry. No more worrying about mildew-infested passports or moldy documents.
8. Quality Over Cheapness
While we provide affordable storage, we don't compromise on quality. Moishe's offers modern, climate-controlled storage units built with the highest quality materials. With prices starting at just $29 a month, we provide some of the best deals in the city.
9. Safety First
Cheap storage might save you a few bucks, but it often sacrifices security. Moishe's Self Storage takes your trust seriously. We invest in top-notch security technology, ensuring your personal valuables remain protected. From video monitoring to security patrols, we've got your back.
10. Tailored to Your Needs
With over 20 different unit sizes, Moishe's Self Storage has a storage package for everyone. Whether you're downsizing, relocating, or just need some extra space, our units cater to your unique requirements and budget.
Affordable Long-Term Storage Solutions: Moishe's Self Storage 
When it comes to storage in the Big Apple, Moishe's Self Storage has your back. For over 30 years, we've been NYC's trusted storage provider, offering convenience, affordability, and security. Visit one of our five convenient locations or schedule a free consultation with our account managers today. We'll give you a tour, help estimate your space needs, and ensure you find the perfect fit for your storage needs. Don't settle for cheap – choose Moishe's for quality, affordable storage. Click here to call today!