Climate Controlled Self Storage New York City
Discover the Benefits of Climate-Controlled Self Storage in New York City
In the dynamic cityscape of New York City, finding a storage solution that offers both security and the ideal conditions for preserving your belongings can be challenging. If you're seeking climate-controlled storage facilities, your search ends here.
Amidst the myriad of storage options in New York City, many facilities offer climate-controlled units. However, none rival the affordability and excellence provided by Moishe's Self Storage. We invite you to explore our range of units and experience first-hand our commitment to offering superior storage solutions.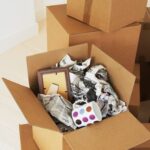 Experience Our Units for Free Defend Your Belongings Against External Elements with Our Climate-Controlled Storage
Our climate-controlled storage units offer unparalleled protection against outside elements. Here are some of the key advantages you can expect:
Stability in Temperature: With New York City experiencing hot, humid summers and chillingly cold winters, your belongings could be at risk in a non-controlled environment. High temperatures and humidity can promote mold and mildew growth, while excessive cold can damage electronics. Our climate-controlled units maintain a consistent temperature, offering added protection against these risks.
Humidity Control: Our units are sealed from the outside, minimizing the ingress of humidity. This feature is particularly beneficial for storing items such as fine wines or valuable artworks, which require controlled conditions. With our state-of-the-art climate control, your prized possessions will be preserved at their best.
Protection Against Pests: Our facilities are meticulously maintained and thoroughly sealed, preventing pests or bugs from entering. Each unit is impeccably clean, ready to welcome new and returning customers.
Dust and Smoke Prevention: In a climate-controlled unit, outside dust, and smoke can't penetrate the unit, preserving your items from potential damage.
Minimal Vibration: Our robust structures ensure minimal vibration, vital for maintaining the integrity of delicate items like fine wine and artwork.
Light Control: Light exposure can damage photographs and cause colors to fade. Our units are designed to prevent light infiltration, ensuring your items retain their original condition.
Climate-controlled storage units offer an optimal environment for various items, particularly those sensitive to temperature, humidity, and light. Whether you need to store vintage clothing, paper archives, or fabric-based items, our units provide ideal conditions to prevent fading, mold growth, and damage.
Enhanced Security with Our Climate-Controlled Units Security is a cornerstone of our offerings at Moishe's Self Storage. Our facilities are equipped with state-of-the-art alarm systems, security guards on patrol, safety checkpoints, and motion detectors. Moreover, our climate-controlled units add an extra layer of security, effectively keeping unwanted guests at bay and safeguarding your possessions from tampering.
Experience Exceptional Specials with Moishe's At Moishe's Self Storage in the Bronx, we provide an array of daily and monthly specials. You can view each of our self-storage specials by clicking on the provided links:
Free Storage Pickup: Rent a room for a minimum of three months and, if you're located within the 5 boroughs of NYC, we'll pick up your items and transport them to your storage unit free of charge! This service is available on units up to 5×10 in size.
Refer a Friend: Refer a friend to Moishe's Self Storage and we'll credit $50 towards your next month's rent! Comprehensive Storage Solutions with Moishe's At Moishe's, we have specialized in providing climate, temperature, and light-controlled storage units for years, serving a wide range of clients, from museums to private collectors. As NYC's leading provider, we take the preservation of your belongings seriously, implementing continuous monitoring of our premises.
Contact Moishe's Self Storage for affordable, full-service self-storage units in New York City to store wine, art, furniture, luggage, household items, and more.
Our Manhattan/The Bronx and Queens/Brooklyn Storage Facilities are conveniently located near you. We offer over 20 different storage unit sizes, catering to the needs of individuals, students, and businesses alike. We are devoted to serving you with the best storage solutions, ensuring your items are well-preserved, secure, and accessible whenever you need them.