Customizable Storage Unit
Maximize Your Space in the Big Apple: Moishe's Self Storage Offers Customizable Storage Units in New York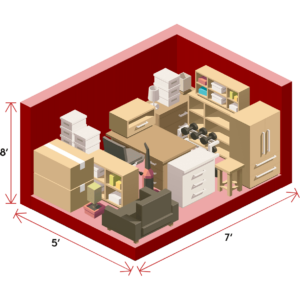 In the bustling metropolis of New York City, space is a valuable and often scarce commodity. As residents navigate the challenges of compact living quarters and businesses contend with high rental costs, the need for efficient and flexible storage solutions has never been more critical. A customized rental unit provides the perfect answer to these unique storage demands in the Big Apple. By tailoring the unit's dimensions and features to accommodate specific items or spatial constraints, New Yorkers can optimize their available space, declutter their homes and offices, and ensure that their cherished possessions are safely and securely stored. Whether it's oversized furniture, valuable artwork, or business inventory, custom-sized storage units offer a practical and adaptable solution to the city's ever-present space challenges.
What does Custom- Sized Storage Unit Mean?
A custom-sized storage unit is a storage space that deviates from the standard dimensions typically offered by storage facilities. These units are tailored to accommodate the specific needs of a customer, whether it be for unique, oversized, or irregularly shaped items. Custom-sized storage units can be larger, smaller, or uniquely shaped compared to conventional storage units and may include specialized features like adjustable shelving, reinforced flooring, or climate-controlled environments to cater to the customer's requirements.
Typically, standard storage units in NYC are offered in common sizes such as 5×5, 5×10, 10×10, 10×15, and 10×20 feet. A custom-sized storage unit, on the other hand, may have dimensions that fall outside these standard sizes or have a non-rectangular layout to better fit specific items or adapt to unique space constraints. To determine what size unit you may need, use our room size calculator.

Items that may Require a New York Custom Sized Storage Unit
A list of top 10 items that might require a custom-sized storage space in New York includes:
1.     Theatrical props and set pieces: Theaters or production companies might need custom storage solutions to house their large or irregularly shaped stage props         and set pieces.
2.     Large furniture: Oversized or uniquely shaped furniture, such as sectional sofas, dining tables, armoires, or antique pieces, may require a custom-sized storage unit to accommodate their dimensions.
3.     Pianos and musical instruments: Grand pianos, harps, or other large musical instruments may require a custom storage solution due to their size, shape, and delicate nature.
4.     Artwork and sculptures: Large paintings, statues, or installations might need a customized storage space to ensure they are stored securely and protected from potential damage.
5.     Automobiles and motorcycles: Vehicles, including classic cars or motorcycles, often require customized storage solutions to accommodate their size and protect them from the elements.
6. Boats and watercraft: Small boats, jet skis, or other watercraft may require a custom-sized storage unit to accommodate their size and protect them during the off-season.
7. Business inventory and equipment: Business owners may need custom-sized storage units for storing large or irregularly shaped inventory items, machinery, or equipment.
8. Sports and recreational equipment: Large or uniquely shaped sports equipment, like kayaks, canoes, or stand-up paddleboards, may require a custom-sized storage unit for proper storage.
9. Home gym equipment: Bulky exercise equipment, such as treadmills, ellipticals, or weight machines, may require a custom-sized storage unit to ensure proper storage and protection.
10. Large appliances: Major appliances, like commercial-grade refrigerators, washers, or dryers, may need a custom-sized storage unit due to their size and weight.

Moishe's Self Storage: New Yorkers Preferred Custom Sized Storage Unit
Moishe's Self Storage is a premier storage rental company in New York, offering a wide range of solutions to meet the diverse needs of the city's residents and businesses. With over 30 years of experience, Moishe's has built a reputation for providing exceptional customer service, secure facilities, and flexible storage options, including customizable storage units tailored to your unique requirements.
As a trusted name in the industry, Moishe's Self Storage understands the challenges of finding adequate storage space in the Big Apple. That's why they offer customizable storage solutions designed to accommodate items of various sizes and shapes, ensuring a perfect fit for your needs. Moishe's facilities are equipped with state-of-the-art security features, such as 24/7 surveillance, access control, and alarm systems, giving you peace of mind knowing that your belongings are safe and protected.
In addition to their commitment to security and flexibility, Moishe's Self Storage takes pride in their exceptional customer service. Their friendly representatives are always ready to answer your questions, provide helpful advice, and guide you through the process of selecting the ideal storage solution for your specific needs.
Whether you're in need of a custom-sized storage unit for large furniture pieces, valuable artwork, business inventory, or any other unique items, Moishe's Self Storage is the go-to choice in New York. Don't hesitate to reach out to their knowledgeable team and explore the range of customizable options available to you. Contact Moishe's friendly representatives today at (718) 786.0972, or  and let them help you find the perfect storage solution to suit your individual needs in the bustling city of New York.