Document Storage and Security
Document Storage and Security Solutions for NYC Residents
In today's fast-paced world, document storage and security are of utmost importance, especially for NYC residents seeking reliable solutions for their business and personal needs. Whether you are a business owner managing important contracts and financial records or an individual safeguarding personal documents, finding a secure and accessible storage solution is essential. This article explores the benefits of Moishe's Self Storage, a trusted name in the industry, and why it is the ideal choice for NYC businesses and individuals seeking document storage services.
The Importance of Secure Document Storage
In an era driven by digital data, it's easy to overlook the importance of affordable self storage for physical documents. However, both businesses and individuals still deal with significant amounts of paper documents that hold valuable information. Legal paperwork, financial records, medical files, and other sensitive documents require secure storage to protect against loss, damage, or unauthorized access.
Moreover, businesses in New York City are often subject to stringent data protection laws, making the secure storage of physical documents a legal and ethical obligation. Failure to comply with these regulations can result in severe penalties and loss of trust from clients and customers.
Moishe's is a Long-Time Industry Leader
Moishe's Self Storage, a trusted name in the NYC self storage industry, understands the importance of keeping documents safe and accessible. With a legacy of reliability and excellence spanning decades, Moishe's has become the go-to choice for residential and business storage services.
Cutting-Edge Security Measures
At Moishe's Self Storage, your document security is their top priority. Their facilities are equipped with cutting-edge security measures to ensure your valuable documents are safeguarded at all times:
24/7 Video Surveillance: Moishe's employs advanced CCTV cameras to monitor every nook and corner of their facilities. This constant video surveillance serves as a deterrent against unauthorized access and ensures a safe environment for your documents.
Motion-Detectors: Motion-detectors are strategically placed throughout their facilities, instantly triggering alerts in case of any movement beyond designated areas. This proactive approach allows Moishe's to respond swiftly to potential security breaches, reinforcing their commitment to providing a safe and secure environment for their customers' valuable documents.
Security Personnel: To provide an additional layer of protection, Moishe's employs a team of trained security personnel who conduct regular patrols and oversee the premises round-the-clock.
Fire Prevention Systems: Moishe's facilities are equipped with state-of-the-art fire prevention systems, including smoke detectors and sprinklers, to minimize the risk of fire-related incidents.
Climate-Controlled Storage Units
Moishe's understands that some documents are sensitive to environmental factors such as temperature and humidity. To address this concern, they offer climate controlled storage units. These units maintain a stable environment, protecting your important documents from the damaging effects of extreme weather conditions.
Tailored Solutions for Businesses
Moishe's Self Storage recognizes that every business has unique storage needs. Whether you are a startup, a growing enterprise, or a well-established corporation, they offer tailored storage solutions to meet your specific requirements. With units of various sizes, you can easily find the perfect space to accommodate your document storage needs.
Convenient Locations Across NYC
With multiple convenient storage locations in NYC, Moishe's offers unmatched accessibility for its customers. No matter where your business is based or where you reside, there is likely a Moishe's facility nearby, making it easy to access your stored documents whenever you need them.
Stellar Customer Service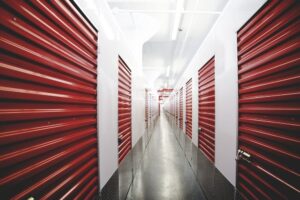 At Moishe's, providing exceptional customer service is at the core of their values. Their friendly and knowledgeable staff are always ready to assist you with any queries or concerns, ensuring a smooth and stress-free storage experience.
Cost-Effective Solutions
Despite offering top-notch security and premium services, Moishe's Self Storage remains committed to providing cost-effective solutions. They believe that secure document storage should be accessible to businesses and individuals alike, and thus, they maintain transparent pricing with no hidden fees.
Building Trust and Long-Term Partnerships
Over the years, Moishe's Self Storage has earned the trust of countless customers through its unwavering commitment to quality, security, and customer satisfaction. Many NYC businesses and individuals have formed long-term partnerships with Moishe's, relying on their exceptional services to safeguard their important documents.
Partner With Moishe's Self Storage and Know Your Belongings are Safe and Secure
In a rapidly evolving world, the need for secure document storage solutions remains constant. Moishe's Self Storage stands out as a leading provider of document storage and security services in New York City. With state-of-the-art security measures, climate-controlled units, tailored solutions for businesses, and convenient locations, Moishe's offers everything you need to ensure your valuable documents are safe and accessible when you need them.
When it comes to document storage and security, Moishe's Self Storage is the name you can trust. Don't leave the protection of your important documents to chance. Contact them online or call (800)536-6564 today. Choose Moishe's and experience the peace of mind that comes with the best document storage solution in NYC.