How to Downsize your NY Apartment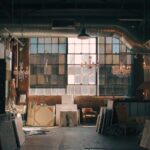 Downsizing Your Apartment in Queens, NY
Downsizing your New York City apartment can be a challenging task, especially when you have lived in a big space for a long time. However, with the right approach, you can make the process a lot smoother and stress-free. One of the most effective solutions is to use a storage unit. Here are some tips to help you downsize your apartment using a storage unit.
Evaluate your belongings: The first step to downsizing your apartment is to evaluate your belongings. Make a list of items you no longer need or use regularly and set them aside for storage. This includes furniture, decorations, and clothing that you haven't worn in a while.
Decide on the right storage unit: There are many storage units available in New York City, so it's important to choose one that fits your needs. Consider the size of the unit, the location, and the cost. You want to choose a unit that is easily accessible and secure, but also affordable.
Pack your items carefully: When packing your items for storage, make sure to use high-quality boxes and packing materials. Label each box clearly and take note of what is inside. This will make it easier to find items when you need them later.
Store seasonal items: If you have items that you only use during certain seasons, such as holiday decorations or winter clothing, store them in your storage unit. This will free up space in your apartment and make it easier to organize your belongings.
Store items in an organized manner: When storing your items, make sure to place them in a logical and organized manner. This will make it easier to find what you need when you need it and will also protect your items from damage.
Consider climate control: If you're storing valuable items, such as artwork or electronics, consider a climate-controlled storage unit. This will protect your belongings from damage due to temperature changes and humidity.
By using a storage unit, you can downsize your New York City apartment without having to get rid of items you may need in the future. This is a cost-effective and convenient solution that will make the downsizing process a lot smoother and stress-free.
You can give to a wide variety of charities. Among these are places of worship and charitable organizations like the Vietnam Veterans of America and Goodwill. Book donations can be sent to libraries, and clothing donations can be made to charities like Dress for Success. Or, if you have things that might be of use to the people you care about.
So, your nephew is headed off to college and could use a little refrigerator. So, it's fortunate that you have one and can give it to him. In a similar vein, you probably have acquaintances who would appreciate having access to some of the things you no longer use. You can always ask whether anyone is interested in anything by sending a list and images of the stuff you plan to give away to your friends and family. Pick a weekend when you're open and have everyone come grab their stuff.
Everyone in this city is struggling with cramped quarters, not just you. This is why there are experts who, for a price, can assist you in getting your new house organized and making the most of the space available to you. If you need assistance keeping up with your city flat, ask around for recommendations on a professional organizer. You can find books and websites that provide you with plenty of ideas to help you reduce your without spending any money.
Moishe's Self Storage; Downsizing in NYC
Some items you definitely won't want to get rid of, while others you aren't sure whether to keep or discard. Renting a storage unit in the City can be a great aid during a move or just to free up space in your home. All around the city's boroughs and neighborhoods, you may find a plethora of such establishments. Make sure the facilities are secure, well-managed, and willing to work with you on a contract that meets your needs.
If you need a low-priced storage space in New York City to save wine, artwork, or other items, contact Moishe's Self Storage. You'll find our storage facilities in Manhattan/The Bronx and Queens/Brooklyn to be easily accessible. To accommodate everyone from students to business owners, we have over 20 different storage unit sizes. Room reservations, discounts, and inquiries are all available here.