How to Properly Store Furniture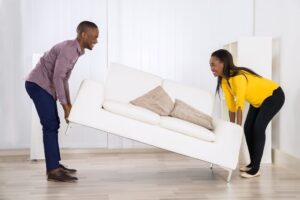 5 Tips That Work When Storing Furniture
Most New Yorkers store their furniture for many reasons. They may be remolding their apartment or home and want to keep the furniture safe and dust free. They may store their furniture while waiting to get into a new home or apartment. Some may even store grandma's couch in hopes that one day it will become fashionable again! Whatever the reason, storing furniture in New York can be confusing and tricky. Here are 5 tried and true tips to help keep your furniture safe while storing short term or long term.

1. Clean Before Storing
Cleaning your furniture thoroughly before putting it away for storage is a must. When you store your furniture for a long time, the dust, dirt, and grime that settles on it can become permanent. Rust, mildew, and mold can quickly spread if left unattended. To begin any standard cleaning routine, dust should be wiped away with a dry cloth, and stains should be treated with a damp cloth.
Choose a mild cleaner that won't leave any stains or harm the wood's finish if you have wooden furniture. Rust on metal furniture can be removed using the proper cleaners and some steel wool, as rust will only spread if not treated. Fabric sofas and chairs should be vacuumed and cleaned with a fabric cleaner that is safe for the fabric's color. Spraying upholstery and wooden furniture with a pesticide that is safe for use on upholstery and wood may help eliminate any pests that may be hiding in the cracks and crevices.
2. Break Down Items if Possible.
If possible, disassemble large furniture (like pool tables and bed rails) for more compact storage. Although it is not necessary, you can make storing your furniture easier and safer by disassembling it such as by removing the legs, the drawers, and the bed rails. Additionally, if you disassemble your furniture, transporting it to your storage unit will be a breeze.
We suggest that you place any nuts, bolts, etc in a plastic bag and store them along with the furniture. It is also helpful if you take a picture of the item before disassembling to ensure how to reassemble it later on.
3. Properly Cover All Furniture
Protecting the furniture from dust and other contaminants is essential if you plan to store it for an extended period of time. Plastic shrink wrap is a great way to protect fragile items like a glass tabletop or a ceramic lamp during transport. Bubble cushion wrap and other forms of tight plastic wrappings, however, should be avoided for most other types of furniture. Plastic has the potential to trap moisture, which could result in the growth of mold, rot, or cracks. We recommend using wrapping paper for these items. You can purchase this and any other moving and storage materials at Moishe's Self Storage.
Depending on what your furniture's surface is made of, you may need to do a few extra things to keep it safe. Wood furniture is especially fragile because it swells and shrinks when it gets wet or dry. It is a good idea to put a coat of furniture polish or linseed oil on your wood furniture. This will keep the wood from drying out and breaking. Make sure to polish any metal furniture before putting it away to keep it from rusting.
The best kind of cover for most types of wood, upholstered, and metal furniture prevents dirt and dust from accumulating on the surface while still allowing air to circulate around the piece. Drop cloths are available for purchase, or you can use a natural fiber blanket or sheet. If you want to keep some airflow going to the furniture, wrap or drape the blankets loosely about it.
4. Store in Climate Controlled Unit if Possible
What does it imply when someone says they have climate-controlled storage in New York? It's just a regular warehouse with climate control to keep the temperature and humidity consistent all year long. During the year, New York City's weather can change rapidly, with dramatic swings in temperature, humidity, and precipitation. Climate-controlled storage facilities eliminate the risk of damage by maintaining constant temperatures and humidity levels. Maintaining a comfortable indoor climate may protect you from the weather and drive away pesky insects, dust, and other pests. Since you won't have to fight the elements to get to your unit, not only are your belongings safer and more secure but so are you!
For your comfort, most of Moishe's self-storage units provide climate control. Find a storage facility near you by checking out our locations page today! In that area, you can find a storage facility near you that provides safe and easy self-storage solutions.
5. Store the Furniture Strategically
The final step in preparing your furniture for storage is to move it to the storage facility. Although it may appear uncomplicated, much consideration must be given to placement in long-term storage. It is recommended that the furniture be stored on pallets to avoid any potential damage. This will allow for better ventilation all the way around the furniture. Warping might occur if you stack items on top of your furniture.
Make sure there is adequate breathing room around all your belongings to prevent the buildup of mold and mildew. Ensure your furniture is safely propped up so it doesn't scrape against each other. Keep a minimum of two inches of space around your furnishings. If you're storing your belongings for an extended period, it's not worth saving a few dollars a month by packing them too tightly.
Check out our room size calculator to find the right size room for your furniture.
Choose Moishe's for Your Storage Needs
For more than three decades, Moishe's has set the standard for excellence in the moving and storage industries. Our company's roots go back to the early 1980s in the Big Apple, so we know what real New Yorkers want. Our services are customized to match the demands of each individual customer, from free pickup services in five boroughs of New York City to trucks that can easily navigate city streets. We never use subcontractors, just our own expertly trained team, for any aspect of your move. Please contact one of our storage professionals if the unit size you need is not shown on our website. Embrace nothing but the finest. Put your storage needs, whether business or personal, in Moishe's hands.