Knowing Inventory Of Your Storage Unit
Moishe's Self Storage: Spearheading Exceptional Storage Solutions in NYC
Since its inception in the 1980s, Moishe's Self Storage has firmly established itself as the largest and most trusted storage provider in New York City. Our journey spans decades of dedication, evolving customer needs, and an unwavering commitment to exceptional service. It is a story of resilience, innovation, and reliability, which has solidified our standing as NYC's most reputable storage company.
A testament to our success and vision is Mana Fine Arts, a venture led by our founder, Moishe Mana. Mana Fine Arts is renowned nationwide as a major player in the sphere of fine arts storage and handling, setting standards for the industry.
Our holistic approach to storage combines the finest in contemporary technology with our highly skilled team of fine arts storage professionals. This dynamic pairing has positioned us as the go-to choice for fine arts storage in the bustling city of New York.
Our clientele encompasses a broad spectrum of the arts community, with galleries, museums, auction houses, and private collectors entrusting us with their prized possessions. Whether it's a sprawling professional art collection or an intimate assortment of pieces, we serve the metro NYC area with the same level of dedication and professionalism.
Uncompromising Standards for Your Treasured Inventory
Maintaining our facilities in pristine condition remains our constant focus. We are committed to ensuring the ideal environment for your stored items, strictly controlling humidity, temperature, and light levels to meet the diverse requirements of your inventory.
Inventory Storage: Redefining Excellence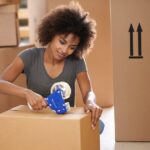 The Moishe's Way of Inventory Storage Management
We offer our fine art storage clients unmatched control over their inventoried items. This control extends to every facet of their stored inventory.
We present an array of cataloging services to our clients. You can choose to catalog your collection based on dimensions, cubic footage, descriptions, or condition. Once your artwork is cataloged and safely housed in our facilities, we grant you continuous digital access, allowing you to check on your items at any given time.
Setting New Standards in Security
At Moishe's, we leave no stone unturned when it comes to security. Our facilities are fortified with advanced security measures, including motion detectors, state-of-the-art burglar alarms, and meticulously placed security checkpoints. Alongside these protective measures, we also employ the latest in fire suppression technology, ensuring a virtually theft-proof and disaster-ready environment.
In the spirit of open communication and tailored services, we encourage you to schedule a consultation with one of our account managers. With over 20 distinct storage sizes on offer, including options for customizable spaces, you can trust Moishe's to provide the perfect solution for all your storage needs.
Get in touch with Moishe's Self Storage for competitively priced, top-tier storage units in New York City. Whether you need a safe haven for wine, art, or other valuable possessions, we have got you covered. Our Manhattan/The Bronx and Queens/Brooklyn Storage Facilities are conveniently situated and easily accessible. Offering over 20 different storage unit sizes, we cater to a diverse clientele, ranging from individuals and students to businesses of varying sizes. Feel free to reserve your unit, check out our latest specials, or reach out to us for any queries. Your satisfaction is our success, and we look forward to providing you with our top-tier commercial storage solutions.