Military Deployment Storage
When the call of duty arises, there's a flurry of thoughts and actions, with one pressing issue being where to safely store your belongings during your time away. Fortunately, Moishe's Self Storage in Queens, NY, understands this unique need and offers comprehensive military deployment storage services that are flexible, affordable, and secure.
Ease of Mind for Those on Active Duty
At Moishe's Self Storage, we comprehend the challenges military personnel faces when preparing for deployment. The last thing you need to worry about is the safety and security of your belongings. That's why we provide hassle-free, safe storage solutions tailored to meet the unique needs of those on active duty.
Our self-storage facility in Queens, NY, is conveniently located, making it accessible from all corners of the city. Whether you're storing furniture, personal items, or your vehicle, we have a variety of unit sizes that are perfect for your needs.
Flexible Terms for Military Personnel
One of the key challenges that military personnel often face when looking for storage solutions is inflexible contracts. Traditional storage companies may require long-term commitments, which can be difficult to predict due to the unpredictable nature of military deployments.
At Moishe's Self Storage, we understand this, and that's why we offer flexible storage terms. Whether your deployment is for three months, six months, or over a year, we provide contract terms that adapt to your needs. You won't have to worry about paying for storage space when you don't need it.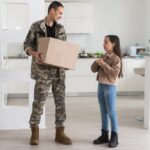 Secure, 24/7 Protection for Your Belongings
As a member of the military, you know the value of security better than anyone. That's why our storage facility employs state-of-the-art security features. Our units are monitored 24/7 by surveillance cameras, and each unit has individual alarms. Additionally, our facilities are gated and staffed by security personnel around the clock. We don't just store your items, we protect them as if they're our own.
Climate-Controlled Units
Climate control is an essential feature for any storage unit, particularly for long-term storage during military deployment. Exposure to extreme temperatures or fluctuating humidity levels can damage certain items, such as electronics, wooden furniture, and delicate fabrics.
At Moishe's Self Storage, we provide climate-controlled units to ensure your belongings remain in pristine condition, no matter how long you're away. This feature allows us to provide an environment where temperature and humidity levels are consistent, offering added protection for your belongings.
Online Account Management
In the digital age, we believe in leveraging technology for convenience. Even when you are halfway around the world, you can access your account, manage payments, and update your contact information through our easy-to-use online platform. This system provides a simple way for you to stay on top of your storage needs, wherever your deployment may take you.
As military personnel prepares for deployment, a multitude of considerations vie for your attention. Among these is the security and safety of your personal belongings during your period of absence. At Moishe's Self Storage in Queens, NY, we understand this concern and offer comprehensive, flexible, and secure military deployment storage solutions, providing you with peace of mind when you need it the most.
Understanding Military Deployment Storage Needs
Military deployments often come with little warning, leaving service members scrambling to organize their affairs. One critical matter is the safe storage of personal belongings, furniture, vehicles, and other important items during the deployment period. This is where Moishe's Self Storage comes in. We're not just a self-storage facility; we're a team dedicated to providing the best storage solution for your unique needs.
Located conveniently in Queens, NY, our facility is easily accessible from all parts of the city. Whether you need to store small personal items or large furniture, our variety of unit sizes ensures that we have the perfect fit for you.
Embracing Flexibility for Our Military Customers
Traditional storage facilities often demand long-term commitments, which can be a challenge for military personnel due to the uncertain nature of deployments. Your deployment could be for a few months or extend to over a year. Predicting the exact duration can be tricky, and you should not have to worry about a storage contract while serving the nation.
To alleviate this stress, Moishe's Self Storage offers flexible contract terms tailored specifically for military personnel. Our adaptable contracts allow you to pay only for the time you need the unit, eliminating any unnecessary financial burdens.
Your Belongings' Security is Our Priority
Your knowledge and commitment to national security are unparalleled. We apply the same dedication to the security of your personal belongings. Our storage facility is equipped with cutting-edge security measures, including 24/7 surveillance cameras, individual alarms for each unit, and gated access managed by on-site security personnel. You serve to protect us; we serve to safeguard your belongings.
Optimum Climate-Controlled Units for Your Items
During long-term storage, items such as electronics, wooden furniture, fabrics, and antiques can get damaged due to changes in temperature and humidity. This is why our storage units are climate-controlled, ensuring consistent temperature and humidity levels. This feature guarantees that your precious items remain in their best condition, irrespective of how long your deployment lasts.
Ease of Access with Online Account Management
In an era of technology, we leverage digital tools to provide convenience to our customers. Our online platform allows you to manage your account effortlessly, no matter where in the world you are stationed. You can make payments, update contact information, and check on your storage unit status, all with a few clicks.
Customer Service that Exceeds Expectations
At Moishe's Self Storage, we believe that the backbone of a successful business is exceptional customer service. Our knowledgeable and friendly team is always ready to assist with your storage needs, answer your queries, and provide guidance. You can reach out to us at any time, knowing that you'll be met with a supportive response.
Trust and Reliability with Moishe's
Your duty to the nation is invaluable, and we at Moishe's Self Storage take immense pride in serving those who serve our country. Our commitment to offering secure, adaptable, and convenient storage solutions to military personnel is unwavering.
As you brave unknown territories and challenges to protect our nation, leave your storage concerns to us. With a track record of trust and reliability, Moishe's Self Storage in Queens, NY, ensures that your belongings are as safe and secure as they