Move In Specials
The Benefit of "Move-In Specials" in the Self Storage Industry: Spotlight on Bronx, NY
A well-organized life often begins with a decluttered space. However, decluttering doesn't necessarily mean parting ways with your precious belongings. The solution lies in finding an appropriate storage space that can hold your items securely until you need them. In Bronx, NY, the self-storage industry has taken a front seat in aiding residents in their quest for extra space, especially during a move. Among the many options available, Moishe's Self Storage stands out with its attractive move-in specials.
"Move-in specials" are discount offers provided by self-storage companies to ease the financial burden on new customers. These incentives often include a discounted first-month rent, free transportation services, complimentary use of moving equipment, and more. But why are these move-in specials so important when you're looking to rent a self-storage unit?
Moving is typically a stressful and financially draining process. Expenses come from various sources, including hiring movers, purchasing packing supplies, and, not to mention, securing the new place itself. Adding storage costs to this mix can significantly strain your budget. By choosing a storage facility that offers move-in specials, you can effectively mitigate some of these financial concerns.
Moreover, these move-in specials serve as a trial period for customers. It allows you to experience the storage services without committing to a long-term contract right away. If you are unsure about a facility's quality, a discounted first month or complimentary additional services can offer a preview of the facility's standard operations and customer service.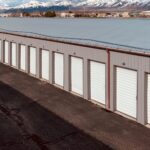 Self Storage; Bronx, New York
When is the best time to look for such move-in specials? The self-storage industry, like many others, has its peak and off-peak seasons. The warmer months, from late spring to early fall, typically see a surge in moving activities, leading to a higher demand for storage units. As a result, the likelihood of finding a lucrative deal during this period can be relatively low.
Conversely, the off-peak season, from late fall to early spring, experiences a reduced demand for storage services. To attract customers during this lull, self-storage companies often provide attractive move-in specials. Therefore, timing your move during the off-peak season could be beneficial if you're looking for the best deals.
However, it's worth noting that appealing deals can be found throughout the year if you're looking at the right places. Moishe's Self Storage in Bronx, NY, is one such facility that stands out. Recognizing that people may need storage solutions at any time, Moishe's offers various move-in specials all year round.
With customer satisfaction and service quality at its core, Moishe's Self Storage has curated a range of attractive deals. These include discounted rates for the first month, complimentary use of their moving van, and even lower rates for long-term storage leases. Such offers not only provide financial relief to customers but also make the moving and storage process less daunting.
The customer service team at Moishe's is available around the clock to guide you through the rental process. They understand that each customer has unique storage needs, and they're committed to providing flexible solutions that best fit your requirements and budget.
Additionally, the quality of their units and the security offered at their facilities add to the value provided. With state-of-the-art surveillance systems and climate-controlled units, Moishe's ensures your belongings are well-protected while in storage.
Taking advantage of move-in specials when renting a self-storage unit in Bronx, NY, is not only a savvy financial move but also a practical one. Companies like Moishe's Self Storage offer a variety of specials throughout the year, ensuring you can find a deal that not only saves you money but also aligns perfectly with your moving schedule and storage needs. While the off-peak season may traditionally offer more attractive deals, remember that good deals can be found year-round if you seek them out diligently.