Safe and Secure Storage Options in Bronx, NY
Safe and Secure Storage Options in Bronx, NY: Moishe's Self Storage
If you are a Bronx resident in search of safe and secure storage options, you have found it: Moishe's Self Storage. With strategically located facilities, a comprehensive range of services, and an unwavering commitment to providing top-notch security, we stand as your trusted storage partner in the Bronx. Let's take a look at the key reasons why Moishe's Self Storage is the ideal choice for all your storage needs.
Convenient Locations, Reliable Security, and a Host of Options:
Strategic Locations for Easy Access: At Moishe's Self Storage, we understand the value of accessibility. That's why we have thoughtfully chosen our storage centers throughout the Bronx and Queens, ensuring that you always have a conveniently located facility nearby. Whether you reside in the northern neighborhoods like Riverdale or Kingsbridge or in the bustling southern areas like Mott Haven or Longwood, you won't have to travel far to access affordable storage in the Bronx, NY.
State-of-the-Art Security Measures: The safety of your cherished possessions is our top priority. Our facilities are equipped with cutting-edge security features to provide you with peace of mind. With 24/7 surveillance, motion-activated alarms, and on-site personnel, Moishe's Self Storage provides safe and secure storage options in Bronx, NY, ensuring they are well-protected at all times.
Climate-Controlled Units: Some items, such as antiques, delicate furniture, and sensitive documents, require extra care. Our climate-controlled storage units are designed to maintain stable temperature and humidity levels, creating an optimal environment for fragile belongings. Whether it's preserving family heirlooms or safeguarding business files, you can trust Moishe's Self Storage to keep your possessions in pristine condition.
Business Storage Solutions: Moishe's Self Storage understands the unique storage challenges faced by businesses in the Bronx. We offer tailored business storage solutions to accommodate various commercial needs. From excess inventory and seasonal merchandise to important documents and equipment, our secure storage units provide an ideal extension for your business space, helping you operate more efficiently.
Comprehensive Storage Services and Assistance:
Moving and Packing Supplies: Preparing for a move or packing your belongings for storage? Moishe's Self Storage has you covered! Our storage centers offer a wide array of moving and packing supplies to streamline your relocation or storage process. From sturdy boxes in various sizes and packing tape to bubble wrap, furniture covers, and more, we provide everything you need to safeguard your belongings during transportation and storage.
Flexible Rental Options: We understand that storage needs can vary widely. That's why Moishe's Self Storage offers flexible rental terms to cater to your specific requirements. Whether you need short-term storage during a home renovation or long-term storage for an extended trip, we have the perfect solution for you. Our flexible options empower you to choose the timeframe that best suits your needs, without locking you into lengthy contracts.
Storage Space Estimator: Unsure about the amount of space you need? Don't worry, we've got you covered! Moishe's Self Storage provides a user-friendly storage space estimator tool to help you determine the ideal unit size for your belongings. Simply input your items, and the estimator will guide you towards the most efficient and cost-effective storage solution, ensuring you get exactly what you need.
Customer-Centric Approach and Exceptional Service:
Friendly and Knowledgeable Staff: At Moishe's Self Storage, we take great pride in our exceptional customer service. Our friendly and knowledgeable staff are always ready to assist you at every step of the process. Whether you need help choosing the right storage unit size or have questions about our services, our team is here to provide the support and guidance you need.
Affordable and Transparent Pricing: We believe that quality storage should be accessible to everyone. At Moishe's Self Storage, you'll find competitive and transparent pricing, free from hidden fees or surprises. Our goal is to provide exceptional value for your money, offering secure and well-maintained and affordable storage in New York.
Online Account Management: We value your convenience and have made managing your storage experience easier than ever. With our user-friendly online account management system, you can easily handle various tasks from the comfort of your home or office. From making payments to updating contact information and accessing account details, everything is just a click away.
Your Next Step: Choose Moishe's Self Storage!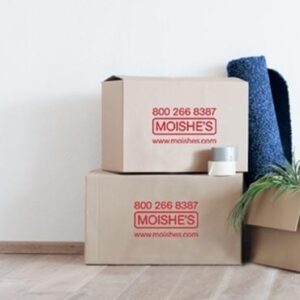 Finding safe and secure storage options in Bronx, NY has never been easier. Trust Moishe's Self Storage to cater to all your storage needs with our convenient locations, top-tier security measures, and excellent customer service. Don't hesitate to contact us online or give us a call at (800) 536-6564 to reserve your storage unit today. Experience the convenience, reliability, and peace of mind that Moishe's Self Storage has to offer. Whether you are a homeowner seeking extra space, a business owner looking to optimize your operations, or someone in transition, we are here to provide the ideal storage solution for you. Let us safeguard your belongings with care and professionalism at Moishe's Self Storage, your ultimate storage partner in the Bronx!