Self Storage For Business — Short And Long Term
Moishe's Self Storage: NYC's Premier Storage Solution
As the largest provider of storage solutions in New York City, Moishe's Self Storage has been at the forefront of the industry for over three decades. With a steadfast commitment to quality and a 100% satisfaction guarantee, Moishe's sets itself apart in a crowded marketplace.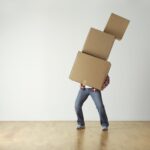 An Unmatched Track Record
Clients who choose Moishe's stick around—an average stay of 4 years, in fact. This longevity is the longest in the storage industry and speaks volumes about the trust and reliability that Moishe's offers.
Moishe's At A Glance: Comprehensive Services
Here's a glimpse into what makes Moishe's an exceptional choice:
Business and Commercial Storage: Tailor-made solutions for businesses of all sizes.
Weather Protection: Full safeguards against weather elements including rain, wind, and fire.
Flexible Terms: Options for both short-term and long-term storage to suit every need.
Versatile Sizes: A variety of units to ensure you pay only for the space you require.
Free Pickup Service: Available across all 5 NYC boroughs with a minimum commitment of 3 months.
Visit Moishe's at their Brooklyn/Queens or Manhattan/Bronx locations, or reach out online to reserve your space free of charge.
The Moishe's Business Difference: Security and More
When it comes to commercial storage, Moishe's Self Storage offers unparalleled security features. Here's why Moishe's stands out:
Unmatched Security Infrastructure
24/7 Security: Constant surveillance ensures safety for both belongings and clients.
Advanced Technology: Motion detectors, cutting-edge fire suppression systems, and burglar alarms are all part of the standard security package.
CCTV Recording: All hallways are monitored using state-of-the-art cameras, ensuring that every angle is covered.
Unlike other providers, Moishe's offers these security features as standard across all rented rooms, without any additional costs.
Guaranteed Weather Protection
Moishe's doesn't just promise weather protection; they guarantee it. With robust measures against damage from precipitation, fire, and heavy winds, your belongings are safe from the elements.
Short And Long-Term Options: Your Storage, Your Way
Whether you need storage for a month or indefinitely, Moishe's has you covered. Their flexible terms ensure that there's never a cut-off date, allowing you to choose the duration that suits your needs.
Units To Fit Every Need
Offering a wide array of unit sizes, Moishe's ensures that you never pay for space you don't need. Ranging from compact 4 X 4 X 2 units (available in Queens/Brooklyn only) to spacious 10 X 20 rooms, there's a perfect fit for everyone.
Free Pickup: Adding Convenience To Quality
With just two days' notice, Moishe's offers free pickup services across all NYC boroughs for those with a 3-month minimum commitment. Their expert team ensures a smooth and hassle-free transition of your belongings to the storage facility.
Experience The Moishe's Difference Today
There's a reason Moishe's Self Storage is the go-to option for many in New York City. Offering more than just storage, they provide peace of mind, reliability, and quality service for everything from wine and art to business inventory.
With over 20 different unit sizes, affordable rates, and conveniently located facilities in Manhattan/The Bronx and Queens/Brooklyn, Moishe's is the comprehensive storage solution for individuals, students, and businesses alike.
Don't just choose a storage provider; choose a partner who understands your needs. Contact Moishe's today, reserve your room, explore special offers, and discover why they continue to set the industry standard in the city that never sleeps.