Self-storage for Estate Executors
When a loved one passes away, their estate's responsibility often falls on the shoulders of a designated estate executor. This task includes managing the deceased's financial obligations, distributing their belongings, and sometimes making tough decisions about their possessions. One strategy that can make this process easier and more organized is the use of self-storage facilities.
As an estate executor, you may find Moishe's Self Storage in the Bronx, NY, a trusted ally. By offering secure, easily accessible storage solutions, we aim to alleviate some of the challenges you face during these emotionally taxing times.
The Challenges Faced by an Estate Executor
The role of an estate executor is multi-dimensional and includes identifying and cataloging the deceased's assets, settling outstanding debts, filing necessary tax returns, and distributing assets to the beneficiaries. One of the most physically and emotionally demanding tasks is handling the deceased's personal possessions.
Sorting through these items requires time, a clear mind, and often, a considerable amount of space. If the deceased owned a home filled with belongings, the estate executor must decide what to do with each item, from sentimental keepsakes to valuable antiques. Moreover, the executor needs to ensure these possessions are kept safe until they are distributed or sold.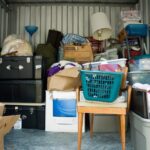 The Importance of Self-Storage for Estate Executors
Self-storage facilities provide an invaluable solution to the logistical challenges faced by an estate executor. Here are several reasons why:
Providing Space: If the deceased's home needs to be sold quickly or if the items cannot remain in the home for any other reason, the executor needs a secure location to store them. Self storage units can house a wide range of items, from furniture and electronics to books and artwork, providing the necessary space.
Facilitating Organization: As an executor, you must take an inventory of the deceased's assets. A spacious, well-organized self storage unit can make it easier to catalog items and assess their value.
Safekeeping of Belongings: Self-storage facilities like Moishe's Self Storage offer secure, climate-controlled units that keep items safe from theft, damage, and weather-related factors. This peace of mind is invaluable during the estate settlement process.
Why Choose Moishe's Self Storage in Bronx, NY
Moishe's Self Storage offers a range of storage solutions tailored to the unique needs of estate executors. Our offerings and services stand out for several reasons:
Variety of Unit Sizes: We offer units in a range of sizes, so whether you need to store a few boxes of personal items or an entire household's worth of furniture and appliances, we've got you covered.
Secure Facilities: We take the security of your stored items seriously. Our facilities feature 24/7 surveillance, individual door alarms, and on-site security personnel, providing multiple layers of protection.
Climate-Controlled Units: Our units maintain a consistent temperature and humidity level, ensuring that valuable and sensitive items such as antiques, artwork, documents, or electronics are well-preserved.
Flexible Rental Terms: We understand that the process of settling an estate can take time. As such, we offer flexible rental terms, allowing you to rent a unit for as long or as short a period as required.
Excellent Customer Service: Our team is professional, understanding, and ready to assist with any queries or concerns you might have. We strive to make your experience with us as smooth and stress-free as possible.
Navigating Estate Settlement with Moishe's Self Storage
While the task of settling an estate can be complicated, self-storage can help simplify the process. With the added pressures of time and emotional stress, Moishe's Self Storage provides the additional space and security needed to sort and distribute belongings without haste.
Access and Convenience: One of the major advantages of using Moishe's Self Storage in Bronx, NY, is the convenient access to your stored items. Our facilities allow you to access the storage unit at your convenience, providing the flexibility needed to sort through items, organize estate sales, or distribute belongings to heirs.
Clean and Well-Maintained Facilities: Our storage facilities are regularly cleaned and well-maintained. We pride ourselves on ensuring that your items are stored in a clean, healthy environment.
Cost-Effective Solutions: Keeping the cost of estate administration in check is often a concern for executors. Our self storage units offer a cost-effective solution for storing items during the process, particularly when compared to the cost of maintaining a residence for an extended period.
Creating an Estate Inventory at Moishe's Self Storage
Creating a thorough inventory is a crucial step in the estate settlement process. This task involves not only listing all items but also estimating their value for both taxation and distribution purposes. A clean, well-lit, and spacious self-storage unit can provide an ideal space for this task.
Room to Work: Our larger storage units offer enough space to spread out items, allowing you to review them individually. This space can be invaluable when dealing with large quantities of possessions.
Organizational Tools: At Moishe's Self Storage, we offer unique shelving options to help you keep the unit organized, making the task of finding specific items easier.
Additional Support At Moishe's Self Storage, we understand that serving as an estate executor is often a new experience for many people. That's why our staff is trained to offer not just professional service, but compassionate support.
Consultation and Guidance: If you're unsure about what size unit you need or how to best store certain items, our knowledgeable team is ready to assist. We can provide advice to help you make the best choices for your situation.
The role of an estate executor is a demanding one, fraught with challenges and complexities. It can feel like an uphill climb, particularly in the early days following the loss of a loved one. By providing a safe, accessible, and supportive storage solution, Moishe's Self Storage in Bronx, NY, aims to make this climb a little bit easier.
Remember, you're not alone during this challenging time. With Moishe's Self Storage, you have a partner ready to provide the support you need. To find out more about our estate storage solutions, don't hesitate to contact Moishe's Self Storage today.