Storage Unit Considerations for Online Shop Owners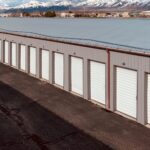 Self Storage Unit, Queens New York
If you live in New York City and operate an online store, renting storage space may be the only choice available to you for maintaining the security of your inventory while yet allowing you easy access to it.
People frequently launch successful enterprises from the comfort of their own homes, either by manufacturing their own goods or by reselling those of other companies. At first look, a studio or one-bedroom apartment with one hundred square feet of storage space may appear to be sufficient for storing a business's goods; nevertheless, as a company grows, the amount of inventory and the want for more space both increase. Many internet retailers may find that they are better off using storage facilities rather than paying rent for a commercial space. For as little as one hundred dollars a month, a store could keep inventory in the unit and retrieve it whenever it was required (perhaps a tax-deductible expense). In the event that you are considering renting a storage unit, the following are some considerations to bear in mind:
The safety of your company's belongings should be your top priority when selecting a storage facility to meet your demands. You can be certain that your belongings are safe in Moishe's Self Storage because they employ a 24-hour digital surveillance system and require a unique passcode to enter the facility. Each and every part of the property needs to be adequately illuminated and maintained.
When it comes to storing fragile objects, it's important to find a self-storage facility that can guarantee constant temperature and humidity. Even if you don't have a climate-controlled unit, you may rest easy knowing that your belongings will be exposed to adequate humidity. Wood and paper aren't great storage options since humidity can cause cracking, warping, and expansion. It could also have an effect on the paper, potentially ruining important records.
Everything you plan to put away has its own unique storage requirements. Storage units of varied sizes are available at a competent and trustworthy facility. This way, you can be confident you're only paying for the space you really use, and you can easily relocate to a different unit if your needs ever change. You can keep all of your stuff in one convenient location if the storage facility has units of varying sizes, eliminating the need to move them to a smaller or larger unit.
Space
How much square footage do you require for your needs, if I may ask? This shouldn't be too difficult to figure out; once the items have been boxed up and you know how many containers you have and how high you can stack them, you can figure out how much space you'll require.
Budget
Think about how much money you can put away each month for storage, as well as how much you believe the space is worth.
Accessibility
Consider the times of day you'll need access as well as the number of times you'll be stopping by. Make sure the location is ideal for your needs and that you will have no trouble getting to the unit itself.
Duration
In point of fact, the operation of some storage facilities is contingent upon the existence of long-term contracts. It is quite essential that you find out how long you will be occupying the location. If you only require storage for a portion of the year, renting a storage unit for the entire year is not the most cost-effective option.
Security
If you plan to store pricey items at your storage facility, you should be certain that it has enough levels of safety. Before making a final decision to move into the location, it is important to find out if there have been any thefts or issues with the security there in the past.
Moishe's Self Storage; Self Storage Online Shop Owners
Contact Moishe's Self Storage if you're looking for cheap storage units in New York City to hold wine, art, or other things. Our Manhattan/The Bronx and Queens/Brooklyn Storage Facilities are conveniently located near you. We offer over 20 different storage unit sizes, available to individuals, students, and businesses. Reserve your room, view specials, or contact us.