Storage Units In Queens NY
Hey Queens! You'll Love These Hilarious Reasons to Get a Storage Unit in Our Borough – Trust Us, We Know!
Hey there, fellow Queens residents! Are you drowning in clutter? Struggling to find space for your expanding sneaker collection? Or maybe you've got enough holiday decorations to make Rockefeller Center jealous? Whatever your situation, it's time to consider a storage unit in Queens. Moishe's Self Storage, to be precise. And here's why!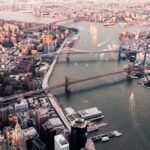 The Never-Ending Battle for Closet Space
We New Yorkers are known for our style, but let's face it: our closets? Not so much. In fact, I'm pretty sure my closet has seen more battles than the Battle of Long Island. If you can relate, storage units in Queens are your new best friend. Thanks to Moishe's Self Storage, you can finally liberate your wardrobe and win that battle for closet space!
Moishe's offers a variety of storage unit sizes to fit your needs, ranging from small 5×5 units for your seasonal clothing swap to large 10×30 units for your entire walk-in closet. Plus, their state-of-the-art facilities are climate-controlled and feature 24/7 security to ensure your belongings are safe and sound.
Your Souvenir Collection Needs a Home
You know what they say, "You can take the New Yorker out of New York, but you can't take New York out of the New Yorker." If you're a die-hard Queens resident with a penchant for collecting souvenirs from your travels, it's time to give them a proper home. With storage units in Queens, you'll finally have a place to showcase your Statue of Liberty snow globes and "I Love NY" t-shirts without turning your apartment into a tourist trap.
The Mother-in-Law Invasion
When your mother-in-law announces she's coming for a visit, it's time to take action. You know she'll be snooping around, so why not stash your secrets (and your embarrassing self-help books) in a storage unit in Queens? Moishe's Self Storage has got your back when it comes to keeping your private life, well, private.
Moishe's Self Storage understands the importance of discretion, which is why they offer unmarked moving trucks and a secure online account management system. So go ahead, tuck away your guilty pleasures, and rest easy knowing Moishe's has your back.
Becoming a "Real" New Yorker
To be a true New Yorker, you've got to master the art of complaining. And what better way to hone your skills than griping about the lack of storage in your apartment? With a storage unit in Queens, you'll have a legitimate reason to bemoan your space woes. Plus, Moishe's Self Storage will give you an extra reason to boast about your borough!
The Great Sports Memorabilia Dilemma
Queens is home to some of the most passionate sports fans in the world. If your collection of Mets, Jets, or Knicks memorabilia is taking over your living space, it's time to call Moishe's Self Storage. Not only will you have room for all your collectibles, but you'll also have a secret lair where you can revel in your fandom, away from the judgmental eyes of your non-sports-loving friends.
The Ultimate Space for Your Side Hustle
Let's be honest: who doesn't have a side hustle in this city? Maybe you're an Etsy shop owner with an ever-growing inventory, or you're a musician with enough gear to fill a recording studio. Moishe's Self Storage in Queens provides the perfect space to store your equipment, products, or materials without cramping your living quarters.
The Solution to Your Apartment Workout Woes
We've all been there – trying to squeeze in a workout in our tiny NYC apartment, only to stub a toe on that free weight that never seems to have a proper home. Moishe's Self Storage offers the perfect solution. Store your bulky exercise equipment in a storage unit, and you'll never have to worry about injury-inducing clutter again.
Reinventing Your Living Space
Has your apartment started to resemble a hoarder's paradise? Use a storage unit in Queens to declutter and reinvent your living space. Moishe's Self Storage can help you make the most of your square footage by providing a temporary or long-term home for your belongings while you transform your apartment into the chic, minimalist oasis you've always dreamed of.
Preparing for Your Next Big Move
Whether you're moving within Queens or venturing out to another borough, Moishe's Self Storage is there to help. Stash your belongings in a secure storage unit during the moving process, and you'll have one less thing to worry about. Plus, Moishe's offers convenient truck rentals and moving supplies to help make your transition as smooth as possible.
Embrace the Queens Lifestyle with Moishe's Self Storage – Your Key to a Clutter-Free Kingdom
As a fellow New Yorker and Queens resident, I can attest to the benefits of having a storage unit in our beloved borough. Moishe's Self Storage, with its top-notch facilities, exceptional customer service, and convenient locations, is the perfect choice for all your storage needs. So whether you're looking to declutter, safeguard your memorabilia, or simply create more space in your apartment, Moishe's has got you covered.
So there you have it, my fellow Queens residents. If these reasons don't convince you to invest in a storage unit in Queens, I don't know what will! And remember, when it comes to storing your prized possessions, Moishe's Self Storage is the only way to go. After all, we deserve the royal treatment!