We spend a third of our time sleeping and likely shell out a good amount of dough on the mattress we sleep on. A quality mattress like Sealy, Simmons, or Serta are good brands and will treat us right. As such, we need to do the same and make sure we keep what we sleep on in tiptop shape. For that reason, it's important to know how to properly put away a mattress and boxspring in a self-storage unit. Protect your investment and your health with these tips: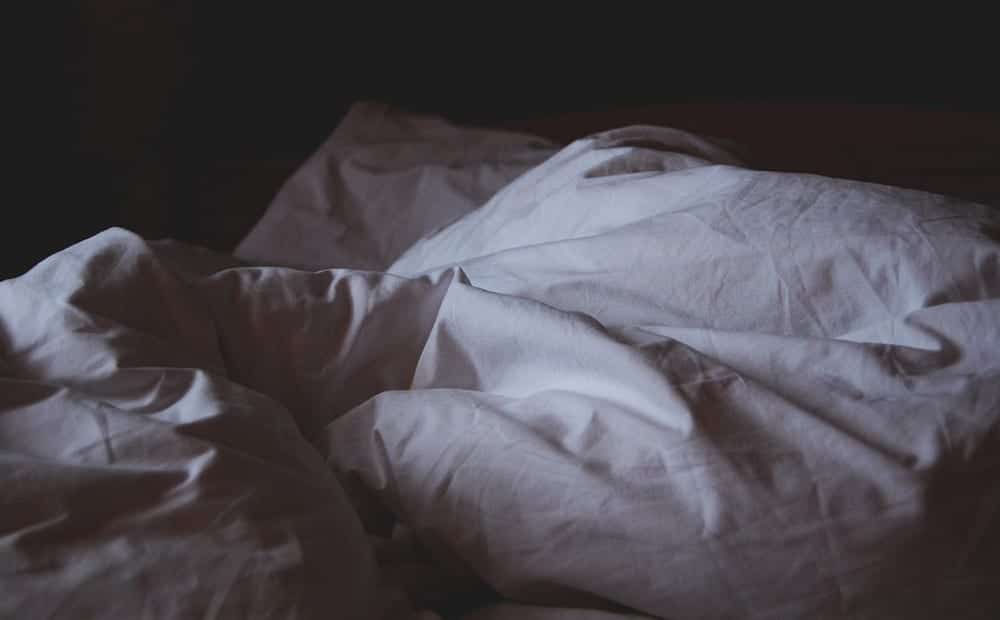 1. Opt for climate control to prevent mold growth
When picking out a storage unit facility, go for a climate-controlled one. All mattresses are prone to mold, not just ones made from memory foam. Anything else you're storing like clothing, books, furniture, and electronics will benefit from a climate-controlled unit to prevent mold growth. These units are usually indoors and will protect your valuables from flooding, pests and rodents. Disassemble your bed. Put all nuts and bolts in a plastic baggy and tape to the underside of your frame for safekeeping. Once your bed is disassembled, cover the headboard and frame with moving blankets to protect them from nicks and dust. Clean your mattress before storing it. You can use an upholstery cleaner if you like, or Baking soda. Vacuum your mattress after cleaning it.
If you do see mold on the outside of your mattress, do not make the mistake of thinking that if you clean what you see your mattress will be safe. Mold moves quickly and will form in the pockets of the fibers inside your mattress. Even if the outside is "clean" the inside may not be, and you can still get ill from sleeping on a mattress with mold on the interior. Since mold is a spore-forming organism, the spores become airborne and end up in our lungs. There is no way to safely eradicate mold that forms on the foam inside your mattress, so you would have to throw it away and get a new mattress if not stored correctly.
2. Transport your mattress to the unit
Do yourself and your mattress a favor and do not tie it to the top of your car. If you tie it too tightly, you will warp your mattress. If you do not tie it tightly enough, you will have the horror of watching it fly off your car and likely cause some serious damage to pedestrians or cars behind you. We recommend transporting your mattress via truck. Once your bed is disassembled, cover the headboard and frame with moving blankets to protect them from nicks and dust. This way, it travels safely and is protected from the elements. If you choose Moishe's Self Storage, we will pick up items for free if you commit to at least three months of storage. Check out our other specials here!
3. Store it flat, not on its side
Mattresses are made up of coils, springs, padding, and other components. Leaving them on their side means these components can shift and settle differently than they were intended. True mattress professionals will tell you to never store your mattress on its side. Store mattresses flat on the ground or flat on top of the boxspring. Even if your mattress is in a waterproof protective bag, you may want to lay a tarp down first if storing on the ground. This may mean a larger storage unit, as some find that setting up the bed as it would be at home in the unit to be the best for their mattress.
4. Don't stack anything on top of your mattress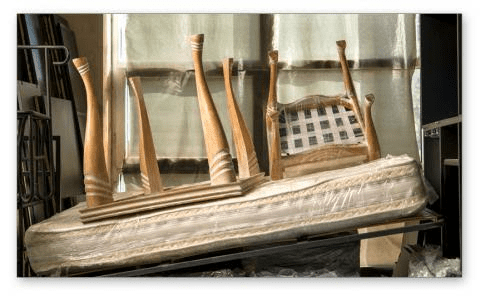 Boxes or other objects shouldn't be placed on top of your mattress. This will push down on specific regions of the mattress and likely change its shape. This goes for plopping the mattress down on top of uneven surfaces. Both instances can warp a mattress.
5. Get a plastic cover
Most moving facilities and even truck rental companies sell inexpensive plastic covers for mattresses. They not only protect your mattress during transport from dirt but can also shield it at the storage facility from dust and moisture. Even the best storage units have some dust, so keep it covered. Sites like target.com and overstock.com offer sealable storage bags for all mattress sizes. You can even pick up storage bags for comforters, pillows, and other bedding as well. If you're using a used mattress protector, make sure to tape it up securely and cover any holes or tears with tape. It should be absolutely air-tight.
6. Freshen it up after storage
When you're ready to take the mattress out of storage, remove the plastic cover and let it breathe to remove the plastic smell. You can further freshen it by sprinkling baking soda on it, front and back, which will absorb any odors, then vacuum. Lay it on a great boxspring that allows some air to circulate under the mattress or on a bed frame that does the same and relax and sleep deeply knowing you did well by your mattress that will now continue to do well by you.
---
Contact Moishe's Self Storage if you're looking for cheap storage units in New York City to hold wine, art, or other things. Our Manhattan/The Bronx and Queens/Brooklyn Storage Facilities are conveniently located near you. We offer over 20 different storage unit sizes, available to individuals, students, and businesses. Reserve your room, view specials, or contact us.