Affordable Storage Units
Are you in the market for affordable storage units in NYC and surrounding area? Moishe's Self Storage has got you covered. We offer a variety of storage unit sizes and can accommodate customers' short- and long-term storage needs.
Affordable Rates
Storing the trinkets and excess items you have within your NYC apartment should not break the bank.  New York is one of the most space limited and expensive cities within the United States.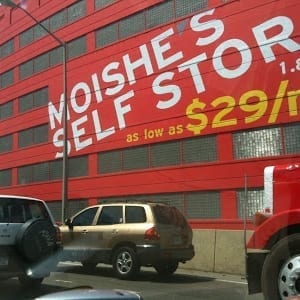 Make your living space more livable by renting a self storage unit from Moishe's at an affordable price today! Stop feeling the need to either keep your apartment cluttered with your cherished personal items, or throw them away. For affordable storage options, call Moishe's.
Like an extension to your closet or attic, self storage units provide additional room to store personal valuables that take up precious living space in your apartment. Moishe's Self Storage in NYC has units available as low as $29/month.
Moishe's state-of-the-art security system and procedures keep your valuables away from the danger of theft. As well as from potential fire damage! Moishe's facilities are equipped with top-of-the-line fire suppression technology to keep your items safe and secure.
Seasonal Storage
Affordable storage units do not need to be large. Moishe's Self Storage offers several units that are perfect for seasonal items, such as Christmas trees, Halloween decorations and dinner party flatware, which would free up space around your apartment.
Free up closet space by packing up all of your off-season clothes and storing them in one of Moishe's customizable storage units. Start making your desire to be more organized a reality by renting affordable storage units from Moishe's Self Storage.
All Around Great Deal
There are several storage facilities in and around the NYC area. However, Moishe's Self Storage is committed to excellent service, security, cleanliness and prices. When you think affordable storage units, think Moishe's. Are you interested in learning about our storage units or prices? Send us an email or call us today to learn more!