Art Storage New York
Whether you are an art museum curator, gallery owner, or amateur art collector looking for a secure location to store fine art, Moishe's Self Storage has the highest quality art storage New York can provide at some of the most affordable prices. The top-of-the-line technology included in our art storage facilities, as well as the services provided by our highly qualified specialists, have made Moishe's Self Storage the fine art storage facility of choice for action houses, commercial galleries and museums.
Environmental Control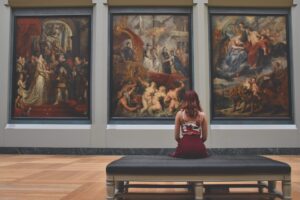 Moishe's Self Storage takes the environmental control of our art storage process and facilities very seriously. Every single process of our art storage is climate-controlled if the client wants to be. Your fine art collection will be kept at a stable and comfortable temperature form the minute that we pick it up in our transportation vehicles, to the minute it is placed in our state-of-the-art art storage facility. Our art storage units can be meticulously controlled for temperature, humidity, and light exchange to ensure that your fine art stays pristine.
Inventory Management
Moishe's Self Storage will not only store your art in one of our modern and high tech art storage facilities, we can also document and catalogue your collection or inventory. We make sure that our art storage clients have complete control over their collection. You can even monitor your inventory online from the comfort of your office or home.
Our cataloging services can document the description, dimensions, cubic feet and condition of every single piece of art within your inventory or collection. This data is then stored online so you can access it anywhere. We even provide every piece of art with a barcode for easy tracking and data base management.
Looking for a safe, secure and responsible company to store your fine art collection or inventory is simple with Moishe's Self Storage. We offer our customers museum grade art storage for an affordable price. The best art storage New York City can provide is just one phone call away. Contact Moishe's Self Storage today!