Bike Self Storage In New York City
If you're seeking an efficient solution for bike storage in New York, look no further than Moishe's Self Storage. We're the city's top-ranking facility thanks to our commitment to handling every storage request with unmatched professionalism and a distinct focus. Moishe's bike storage in New York offers a practical solution for many commuters who just need a convenient and secure place to store their bike. As the most trusted self-storage facility in the city, we understand the challenges of commuting in New York City and thus, we ensure easy access to our storage units.
Moishe's Bike Storage Solutions in New York City: A Choice for the Avid Cyclist
Our 24/7 bike storage service in New York is highly favored by cyclists. New York City's unpredictable commuting times make having a secure, round-the-clock storage service incredibly useful. At Moishe's, you'll discover a variety of storage locations spread throughout the city for storing or retrieving your bike. We serve every borough, so end your search for a convenient storage unit near you today. Our understanding of New Yorkers' requirements has led us to offer the best solutions for bike storage.
The safety of your bike can be compromised when it's stored in public due to the ease with which locks can be broken and bikes stolen. If you're looking for a safe bike storage solution, you'd probably want an affordable, slender storage unit. As you may be well aware, affordable space in NYC is a luxury.
If you need a monthly storage unit to safely store your bike close to your home or office, Moishe's has the perfect solution. We offer secure bike storage solutions along with commercial and personal climate-controlled storage units.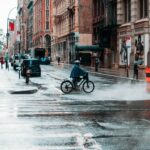 Moishe's: Setting the Standard in Bike Safe Storage in NYC
At Moishe's, you won't find a more affordable, cleaner, and secure bike storage unit in the city. All our storage units are climate-controlled, ensuring the safety of your stored items.
New York City is home to more bikes than most cities in America. On any typical day, there are hundreds of thousands of cyclists traversing the city. The majority of these cyclists are commuters, and as any of them would attest, bike storage in NYC can be particularly challenging due to the sheer number of bikes. Moishe's Self Storage offers an excellent solution for commuters with our convenient locations across the Bronx and Queens!
We invite you to visit your nearest Moishe's Self Storage location in NYC to see why we're considered the best in the city. Schedule a consultation with one of our helpful account managers today. We are more than happy to assist you in finding the perfect bike-safe storage solution. With over 20 different unit sizes to choose from, including customizable spaces, you're bound to find the ideal fit for all your storage needs at Moishe's.
Multiple Bike Storage Locations and More with Moishe's
At Moishe's Self Storage, we offer two conveniently located facilities that serve the five boroughs of New York City. We understand the difficulties faced by everyday commuters when it comes to bike storage in NYC. We encourage you to check our locations page and decide if an everyday storage solution suits your needs. Depending on your residential location and workplace, our storage solutions could be a perfect fit.
For those interested in easy access bike storage at our facilities, we promise cleanliness and safety for your bike from weather elements. Don't expose your costly bike to damage from low-quality storage. With Moishe's, your bike will not only be safe from weather elements but also from theft and vandalism. All our facilities are equipped with a 24/7 CCTV system. Your bike will only be accessible to you, and no one else.
Premium Security Features for Bike Storage Solutions at Moishe's
At Moishe's, our commitment to providing excellent customer service sets us apart as the leading storage provider in NYC. For over 30 years, our customer-oriented service consistently earns us 5-star ratings. Our customers store with us for an average of 4 years—the longest in the industry.
In addition to providing excellent service, we also offer premium security features including CCTV recording, security checkpoints, state-of-the-art burglar alarms, and the latest fire suppression technology. Our security patrols monitor cameras, essentially eliminating any theft risks. What other bike storage solution guarantees your bike will always be there, right where you locked it up and left it?
Moreover, each Moishe's Self Storage facility is designed to withstand inclement weather and protect against damage from precipitation, fire, and heavy wind. While you might assume that every storage facility offers protection against weather damage, many budget storage facilities do not provide guaranteed protection against such issues. Choose a company that guarantees the quality of its amenities.
Moishe's Bike Storage Solutions: A Fit for Small Apartments
If lugging your bike up and down several floors in your small apartment has become a daily hassle, we can help. Moishe's bike storage solutions for small apartments include convenient locations spread across the city.
We serve every borough, so if your commute is a hassle due to inadequate bike storage solutions, consider an upgrade with Moishe's Self Storage Solutions. We're the city's leading rent storage provider.
Contact Moishe's Self Storage if you're looking for affordable full-service self-storage units in New York City for bikes, art, furniture, luggage, household items, or other belongings.