Bronx Moving and Storage Company
Moishe's Self Storage and Moving: Your Trusted Bronx Moving and Storage Company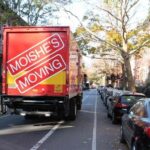 If you're looking for a reliable moving and storage company in the Bronx, your search should end with Moishe's. For over 30 years, Moishe's Self Storage and Moving has been New York City's go-to service provider. Every aspect of our service is consistently rated 5 stars by our patrons.
When it comes to moving and storage in the Bronx, Moishe's has you covered whether you need long-distance movers or a local service. With basic climate control in the cargo portion of our moving trucks, we are able to provide the most competitive rates in NYC for both storage and full moving services.
Why Choose Moishe's Among Other Bronx Storage and Moving Companies
When you use Moishe's, unlike with other city moving firms, you won't have to deal with subcontractors or hired help.  If you're looking for a moving and storage business in the Bronx, your search may end with us. Moishe's is the company to contact in the city if you need a dedicated crew of relocation specialists to do the moving or storage work on your behalf.
Our nearly four decades of service in the NYC region have made us the go-to movers and storers for locals and visitors alike. To make your move easier, Moishe's provides free pick-up services in the Bronx for tiny storage units up to 5′ x 10′.
Optional climate control is available in our moving trucks.
Our careful, experienced approach to relocating and storing your valuables sets us apart from other Bronx movers and storage facilities. Our crew of movers is well-versed in the art of navigating tight spaces and steep stairwells with large furniture such as sofas and pianos.
Temperature management is vital for maintaining your items by neither overheating nor freezing them, and not just for storing valuables like fine art and wine.  For over 30 years, Moishe's has been the city's go-to source of moving and self-storage services.
Guaranteed Happiness at No Extra Cost to You from Moishe 
Our service-oriented staff is committed to your complete satisfaction, so they will always go the extra mile to make your moving and storage process as simple and stress-free as possible.  Whether you're moving across town or across the country, you can book your move with us right now.
Or, if you prefer self-storage, we'll come to get your stuff (up to a 5′ x 10′ area) for free.  To see for yourself why Moishe's in the Bronx Self Storage and Moving has been New York City's go-to for moving and storage for over 30 years, give us a call now.
If you need affordable storage space in New York City to save wine, artwork, or other items, contact Moishe's Self Storage. You'll find our self-storage facilities in Manhattan/The Bronx and Queens/Brooklyn to be easily accessible. Individuals, families, and corporations alike may take advantage of our wide selection of over 20 different storage unit sizes. You may book a room, check out the deals, or get in touch with us.