Cheap Self Storage in the Bronx
When you're seeking cheap self storage in the Bronx with the highest security features on the market, look no further than Moishe's.  As NYC's trusted storage provider for over 30 years, we offer you our 100% customer satisfaction guarantee on all our services.  You won't find a cleaner, more affordable facility with more security features anywhere else in the city.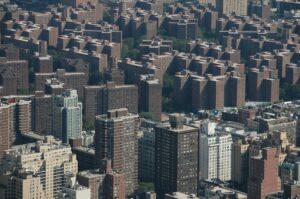 When you're deciding which storage company to go with, it's important to consider what value you're getting for your money.  Most customers seek the cheapest price for a storage rental near them, not considering what services they're getting for their money.
However, at another cheap self storage in the Bronx facility, what you'll get is an access code to enter their building and a unit with a rolling door.  At Moishe's cheap self storage units near me in the Bronx, you'll get the peace of mind that comes with knowing your valuables will stay safe with us, 24/7.  When you need the guarantee of knowing it will stay safe at all times, call on Moishe's.
Our State-of-the-Art Security Features for Cheap Self Storage in the Bronx
As soon as you enter through our impressive, spacious double elevators to access your impeccably clean storage space with us, you'll know you're in the city's premier storage facility.  Our account managers are ready to assist you with anything you might need, at any time.
It's part of our excellent customer service commitment to our customers. Our CCTV recording cameras in every hallway are monitored by our round-the-clock security staff, ensuring total theft prevention.
Your safety is ensured anytime you enter Moishe's cheap self storage in the Bronx.  We utilize state-of-the-art burglar alarms, motion detectors, security checkpoints and the latest in fire suppression technology to keep your storage unit safe.  What other cheap self storage in the Bronx will offer you that?
When your home or office is located within the 5 boroughs, we offer our free pick up services to new customers, up to a 5×10' space with a 3-month commitment.  Why rent a truck and waste your time, money and effort moving items into storage yourself when our team of NYC experienced movers will do the job for you, for free?
Moishe's Self Storage
Call (800) 536-6564 to schedule your free pick up today.  One of our drivers will drive one of our moving trucks to your location, load, transport and store your belongings for you at no extra cost to you.
Come experience the Moishe's difference for yourself today.  Feel free to schedule a complimentary consultation with one of our account managers.  We will be happy to help you estimate the size storage space you'll need.  With over 20 different unit sizes, as well as customizable storage options, you're sure to find the perfect fit for all your commercial or personal storage needs at Moishe's.