Dorm Room Storage Solutions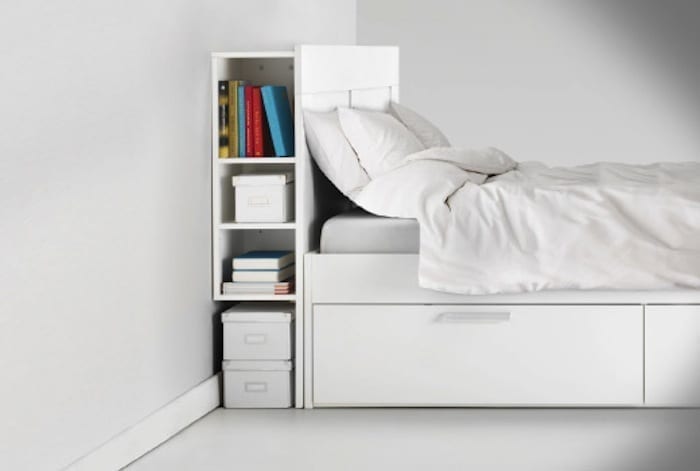 Dorm rooms are never large enough. Either you live by yourself in a tiny space or share that same tiny space with another person.
We understand that at least once in their college career, every student is going to be searching for dorm room storage solutions. If you've come to Moishe's Self Storage, you've come to the right place.
Whether you need to store a mattress, a desk, or just some clothes while you travel during the summer we've got affordable dorm room storage solutions for you. When it comes to service, no one can compete with Moishe's, and there's more than one reason why!
RELATED: 11 Reasons Why College Students Should Store Stuff In NYC
Moishe's Dorm Room Storage Solutions
Moishe's Self Storage rooms are available for rent throughout the city, and we service every borough. Wherever you're staying, we can assist your storage problems. We believe in offering high-quality premium service to the smallest of our rooms.
We've been around for over 30 years and deliver premium service at an affordable price. Rent with us today to find out our customers stay with us for an average of 4 years — the longest in the industry. 
Moishe's Self Storage solutions and options
Moishe's Self Storage is adept at servicing a wide variety of customers. Here in New York City, we see a lot of college students. If you need some dorm room storage solutions, Moishe's Self Storage has a plethora. We manage many storage rooms throughout New York City, so we have space enough for college students wherever they reside.
If you're unsure as to which room you'll need or afford, call in at (800) 536-6564 to speak directly with a building advisor. Check out our specials page to determine the best opportunities for you.
RELATED: What Are You Supposed To Do With Old College Textbooks? Here Are A Few Options
We Offer the Best Security Features for Dorm Room Bike Storage
If you're seeking dorm room bike storage, chances are you want a small storage unit for an inexpensive price located near you. If you need a monthly unit to store your bike close to home or your office, Moishe's has the perfect solution for you. We offer dorm room bike storage solutions as well as commercial and personal storage.
At Moishe's, one of the main reasons we are NYC's premier storage provider is our 100% customer satisfaction guarantee. Our service is customer-oriented, one of the reasons why we receive consistent 5-star ratings for over 30 years now.
What we offer our customers in terms of security can't be beaten at any other facility in the New York City area.
Our account managers are available to assist you from 7AM-7PM and 8AM-5PM on weekdays.
Moishe's utilizes security checkpoints, motion detectors, state-of-the-art burglar alarms and the latest in fire suppression technology.  What other dorm room bike storage solutions guarantee your bike will be secure and safe from theft, no matter what?
RELATED: Summer Storage Solution For The College Student
Moishe's Industry-Leading Storage Standard
You won't find a more affordable, cleaner storage unit with more security features on the market in the city than here at Moishe's. That's why we offer your 100% satisfaction guaranteed.
Feel free to stop by at your nearest Moishe's Self Storage location today and see for yourself what makes us the best the city has to offer. Schedule a consultation today with one of our friendly account managers. With over 20 different unit sizes to select from, including customizable spaces, you're sure to find the perfect dorm room bike storage solution at Moishe's.
---
Contact Moishe's Self Storage if you're looking for cheap storage units in New York City to hold wine, art, or other things. Our Manhattan/The Bronx and Queens/Brooklyn Storage Facilities are conveniently located near you. We offer over 20 different storage unit sizes, available to individuals, students, and businesses. Reserve your room, view specials, or contact us.