Furniture Storage Around Me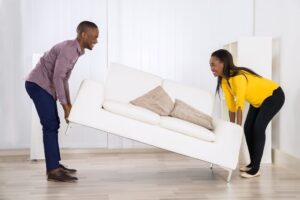 Guidelines for Packing a Storage Unit with Your Furniture in New York
Using the correct packing materials and storage procedures will preserve your furniture in good condition whether you're downsizing, decluttering, or keeping it temporarily between moves.
Clean Your Furniture Before Storing
Always dust and vacuum furniture before putting it away. Damage from dampness, dust, or crumbs of food left behind might attract vermin; keeping things clean helps prevent this.
Don't Use Plastic Wrap for Storage
If you need to store your cloth or wood for an extended period of time, it's best not to wrap it in plastic. Mold and stains can develop on fabrics exposed to the condensation that plastic produces. Polishing or oiling wood furniture is a common practice for keeping it looking good. Always take apart stacked sections, table leaves, and table legs if at all possible. For more information, read Tips on How to Store Wooden Furniture.
Protect Your Furniture with Correct Wrapping
In order to keep your furniture from getting dirty, scratched, or warped, you should use a dust cover made of fabric. You should cover the dust cover with a blanket. It serves as an additional layer of defense from the sun and dirt. Also, it acts as a buffer to protect against the wear and tear that comes from things rubbing up against one another. Cover the entire area by tucking the blanket's warps into the crevices. Packing tape used to the exterior of the blanket wrap can help keep the wrap in place and prevent it from unraveling.
Use Proper Boxes for Large Paintings or Frames
Specialized boxing is necessary for fragile artwork such as paintings and mirrors with frames. These items won't be safe in standard shipping containers. Framed artwork, mirrors, and televisions can be safely stored away in one of several types of flat, expandable picture boxes. The corners are constructed to keep the contents of the box in place. Closing is accomplished by a slick sliding action between the two ends.
Properly Protect Glass Tabletops
As with wooden surfaces, great care must be used while working with glass tabletops. Put packing paper over the top and tape it down so that you don't have to touch the glass. Choose a suitable size of bubble wrap and proceed to wrap the paper. Reapply the tape and double-check that there is no wiggle room. You can now take the necessary measurements for the storage box. To ensure the safety of fragile glassware, some opt to have special wooden containers made.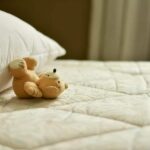 Protect Mattress and Box Springs
Cleanliness is crucial before and after putting away mattresses and box springs. When being stored, each item should have its own protective covering. Here comes the tricky part: some argue that because mattresses and box springs were made to lie flat, keeping one up right out of the box can be detrimental to its longevity. Take into account both the size of your decision and the mattress while deciding on a unit size. Do not pile anything on top of it, no matter how securely it is wrapped.
Protect Patio Furniture Correctly
Cushions for outdoor furniture follow the same care procedures as those for mattresses. You should wash all of the cushions and put them away in their respective storage cases until next year. It's recommended to cover and lightly coat wood, metal, or plastic pieces before putting them away for storage. A little bit of maintenance will extend the life of these items, allowing you to enjoy them for many more seasons.
Utilize Climate Control Self Storage Units When Possible
One of the biggest improvements that can be made to storage facilities is the installation of climate control. Things housed in self-storage units frequently need protection from the natural elements like fluctuating temperatures. Climate control ensures that self-storage facilities maintain constant inside temperatures throughout the year. There is a need for a supplementary ventilation system for some of your preferred and more pricey items of furniture. The use of a pallet system to elevate furniture off the floor complements the climate control elements meant to keep air circulating.
Wood and fabric furniture may suffer damage and increase in replacement prices if you decide against a climate control unit in favor of saving money. If the temperature fluctuates, it might potentially ruin important papers and family photos. When paper dries out, it becomes so brittle that it can easily tear.
Interested in more information on climate controlled storage unites in New York, click here.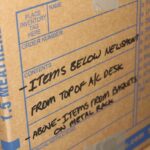 Label Boxes with Fragile Items
It is helpful to prevent breaking of the boxes by labeling them with warnings such as "handle with care — fragile — glass." Items that have been disassembled need to be placed in boxes that are clearly labeled. When it's time to put everything back together, it will make the process easier and cause less frustration.
Don't Store Hazardous Materials
Self-storage units are not intended to be used for the storage of flammable or hazardous materials. Certain cleaning supplies are regarded to be flammable, harmful to the environment, or unsuitable for storage. When these kinds of substances are stored, the unit and its contents are put at danger for everyone. During the stages of packing, the things should not be stored but rather disposed of in an appropriate manner.
If you follow a few tips, moving to storage won't be hard. Make sure you pick the right size of unit. As important as how these things are packed is how they are put in the storage unit. Both of these things are sure ways to keep furniture in good shape while it's being stored.
Choose Moishe's Self Storage for all Your Furniture Storage in New York
Moishe's self-storage has a lot of options for people, families, and businesses who need extra space to store things. Their facilities are well-kept, safe, and easy to get to. This makes them an affordable, flexible, and convenient storage option for anyone who needs it. Whether you need to store household items, furniture, or business inventory, self-storage is a great option that can help you free up space and keep your things safe and organized.