Storage In NYC
New York City: Synonymous with Luxury and High-Quality Services
New York City, known worldwide as a beacon of luxury and world-class services, is alive with an array of exclusive restaurants, art galleries, and unique experiences. Whether you're a resident or a visitor, the city's vibrant offerings provide endless opportunities for exploration. The high level of quality is no accident; it's a product of fierce competition for limited space, driving both costs and standards to unparalleled heights.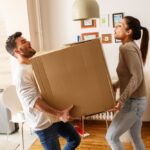 The Exceptional World of Self Storage in NYC: Meet Moishe's Self Storage
Even in the realm of storage, NYC stands out, and Moishe's Self Storage is the crowning jewel. Having built a reputation for excellence over nearly 40 years, Moishe's goes above and beyond traditional storage solutions. With welcoming facilities strategically located in the Bronx and Queens, their services are accessible and convenient.
Why Moishe's Stands Above the Rest: A Comprehensive Guide
Many competitors might boast about offering the cheapest storage in the city. Still, Moishe's understands that affordability should never come at the expense of quality. Here's why their service shines:
Safety and Quality
Moishe's offers climate-controlled rooms meticulously maintained by a highly trained crew, reflecting the grandeur of New York City itself. Unlike substandard options that might expose you to infestations and poor security, Moishe's units are clean, safe, and monitored 24/7 at no additional charge.
Convenience
Ease of access is a priority at Moishe's, ensuring that your belongings are readily available whenever you need them. The facilities are designed to cater to various needs, whether you're looking to reorganize your apartment or manage your business's excess inventory.
Tailored Solutions
With a wide range of unit sizes, from 5 X 5 to 10 X 20, Moishe's guarantees that you won't overpay for unused space. The largest units can comfortably house the contents of a three to four-bedroom house, providing ample flexibility for different requirements.
How to Embark on Your Storage Journey with Moishe's
Securing your ideal storage space with Moishe's is a seamless process. Simply reach out to them at (800) 536-6564, and their friendly staff will guide you to the perfect unit size at a budget-friendly rate. With options available throughout the year, Moishe's ensures that high-quality storage remains accessible to all.
Explore the World of Moishe's Self Storage
If you're in need of top-tier storage solutions in New York City, whether for valuable collectibles like wine and art or everyday items, Moishe's Self Storage is your go-to destination. Conveniently positioned in Manhattan/The Bronx and Queens/Brooklyn, they offer over 20 different storage unit sizes, adaptable to the needs of individuals, students, businesses, and more.
Beyond just storage, Moishe's provides an experience that aligns with the city's luxurious lifestyle. You can easily reserve your room, investigate special promotions, or connect with their team to learn more about why Moishe's is the epitome of storage elegance in New York City.
New York City demands the best, and Moishe's Self Storage delivers. Providing peace of mind with unmatched value, they are not merely a storage facility but an embodiment of New York City's commitment to excellence. Experience the Moishe's difference today, and join the many satisfied customers who have made them their preferred choice for storage in the city that never sleeps.