Best Self Storage NYC
Why Moishe's Self Storage Offers the Best Self Storage NYC Has to Offer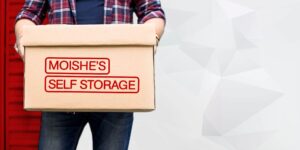 When it comes to self-storage solutions in the bustling city of New York, it's crucial to choose a reliable and convenient option. In this article, we'll dive into why Moishe's Self Storage shines and has the best self storage NYC residents could ask for. From their rich history in the industry to their cutting-edge facilities and exceptional customer service, you'll discover why Moishe's stands head and shoulders above the rest.
Decades of Industry Experience:
With a self-storage journey that started decades ago, Moishe's Self Storage has accumulated invaluable knowledge and expertise. They've weathered the storms of change in NYC and emerged stronger. Their long history in the industry isn't just about years; it's about knowing the ins and outs of the city, the storage business, and, most importantly, what customers need. Their affordable self storage units are the best New York City has to offer.
State-of-the-Art Facilities:
When you're storing your precious belongings, you want to know they're in the best hands possible. Moishe's Self Storage takes this seriously. Their facilities are nothing short of state-of-the-art. Climate controlled storage is a game-changer in a city with unpredictable weather – it keeps your items safe from the elements. You'll find spacious self storage units that can accommodate everything from furniture to that growing collection of vintage vinyl records.
One of the standout features at Moishe's is their use of advanced technology, including motion sensors and fire suppression systems. This proactive approach ensures the safety of your belongings, and it's something that sets them apart from the competition.
Unparalleled Security Measures: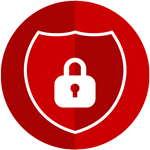 Security is paramount when it comes to the best self storage NYC has to offer, and Moishe's Self Storage goes above and beyond to put your mind at ease. Their facilities are equipped with 24/7 surveillance, ensuring your items are under watchful eyes around the clock. This means that no matter when you need to access your belongings, you can rest assured that they're protected. Whether it's the middle of the night or during the busiest hours of the day, Moishe's is vigilant in keeping your items safe.
But that's not all. Moishe's takes security a step further with motion activated alarms. These secure storage units are designed to deter any potential wrongdoers and provide an added layer of protection for your belongings. The moment someone tries to tamper with your storage unit, an alarm is triggered, and authorities are notified, ensuring that your items remain untouched and secure. Moishe's commitment to security isn't just about meeting industry standards; it's about going above and beyond to give you peace of mind regarding your stored possessions. When you choose Moishe's, you're choosing a level of security that's second to none in the NYC self-storage landscape.
Convenient Locations Across NYC:
In a city as sprawling as New York, convenience is key, and Moishe's Self Storage understands this like no other. They've strategically placed their facilities throughout the city to ensure that wherever you are in NYC, there's a Moishe's location nearby. Whether you're living in the heart of Manhattan, the cultural hub of Brooklyn, or the vibrant neighborhoods of the Bronx, there's a Moishe's facility just a short drive or even a walk away. This strategic placement eliminates the need for you to traverse the city's notorious traffic or public transportation gridlock just to access your storage unit.
Moreover, Moishe's goes the extra mile by offering as solution to anyone searching for 24 hour storage near me. This means that you're not constrained by typical business hours when you need to retrieve or store items. Whether it's the crack of dawn, the late hours of the night, or any time in between, you have the freedom to access your belongings whenever it's convenient for you. It's this kind of accessibility that truly sets Moishe's apart, making them the ideal choice for NYC residents with busy and often unpredictable schedules. With Moishe's, you're in control of your storage experience, allowing you to manage your stored items on your terms.
Incredible Customer Service and Professional Movers:
What truly sets Moishe's apart from the competition is their unwavering commitment to customer service. They don't just offer storage solutions; they offer peace of mind. Moishe's has a team of professional movers in NYC ready to assist you in moving your items into and out of storage. This service can be a game-changer for anyone who's ever struggled with heavy lifting, tight staircases, or tricky corners in a New York apartment.
Their professional movers are trained to handle your belongings with care, ensuring that everything arrives in your storage unit intact and without a scratch. Plus, they know the ins and outs of navigating the city's challenges, so you can trust them to get the job done efficiently.
Exceptional Storage Facilities Are Only a Click Away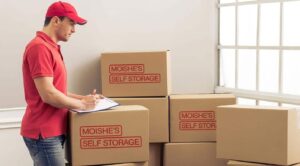 When it comes to choosing a self-storage provider in NYC, you want a company that not only knows what they're doing but also genuinely cares about your needs. Moishe's Self Storage combines decades of experience, cutting-edge facilities, and unmatched customer service to provide you with the best self storage NYC has to offer. Say goodbye to the stress of storage – Moishe's has got your back, every step of the way.
Ready to experience Moishe's Self Storage for yourself? Contact them online today to learn more about their affordable storage units, get a quote, or schedule your move with their professional team. Your belongings deserve the best, and that's exactly what Moishe's provides.