Budget Friendly Storage Options
Unraveling Budget-Friendly Self-Storage Options: Securing Space without Breaking the Bank
The rise of urban living and the increasing need for extra space have fuelled the demand for self-storage units, a practical and convenient solution for individuals and businesses alike. However, the perceived cost of self-storage can often be a deterrent for those working within a tight budget. Fortunately, finding an affordable and reliable self-storage option is far from impossible. Here, we explore some key strategies to identify budget-friendly storage solutions and highlight how Moishe's Self Storage in New York can cater to these needs.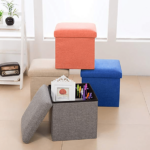 The Power of Comparison
The first rule of thrifty shopping is to compare prices, and this principle holds when seeking a storage unit. Prices can vary dramatically based on factors such as the unit's size, location, amenities, and availability of climate control. Spending some time researching and comparing prices can lead to substantial savings. In New York, Moishe's Self Storage offers competitive rates without compromising on the quality of service, making it an ideal choice for many.
Size Matters
It's easy to overestimate the amount of space you need, leading to unnecessary expenses. Start by taking an inventory of items you plan to store and estimating their total volume. Many storage providers offer size guides to help you select a unit that best fits your needs. At Moishe's, their expert team can guide you in choosing the right size unit to avoid paying for unused space.
The Long-Term Advantage
If you know you'll require a storage unit for a significant period, consider opting for a long-term contract. Many facilities, including Moishe's, provide discounts for customers committing to extended storage durations. This way, you can secure a better rate and enjoy peace of mind knowing your belongings have a long-term home.
Seasonal Savings
Much like the real estate market, the self-storage industry experiences peak and off-peak seasons. Typically, demand decreases during late fall to early spring, leading to lower prices. If your storage needs aren't time-sensitive, planning your rental during off-peak seasons can help you save.
Capitalizing on Move-In Specials
Move-in specials like discounted first-month rent, free transportation services, or additional amenities can significantly cut down your initial costs. Moishe's Self Storage, renowned for its customer-friendly policies, offers various move-in specials throughout the year, enabling new customers to experience their top-tier services at a fraction of the cost.
Shared Spaces
If your storage requirements are minimal, sharing a unit with a friend or family member can be a smart way to reduce costs. It's often more economical to split the cost of a larger unit than to rent two smaller units separately.
Insurance Insights
Before opting for the additional insurance offered by many storage facilities, check your existing homeowner's or renter's insurance policy. It may already cover items stored off-site, providing adequate protection without the extra cost.
The Art of Organization
Organizing your unit effectively can allow you to maximize the available space, potentially enabling you to rent a smaller, less expensive unit. Employing shelves, storage bins, and boxes can help you utilize vertical space and ensure easy access to your belongings.
Prompt Payments
Most storage facilities impose late fees for overdue payments. Avoid these unnecessary expenses by ensuring timely payments. Moishe's even offers convenient automatic payment options, so you never miss a due date.
Location Trade-offs
While the convenience of a centrally-located storage unit is undeniable, these units often come with a higher price tag. If frequent access to your belongings isn't crucial, selecting a facility slightly further out could yield significant savings.
Moishe's Self Storage; New York Storage
Finding a budget-friendly self-storage solution doesn't have to be a daunting task. With due diligence and a strategic approach, it's entirely possible to find an affordable storage unit that meets your needs. Companies like Moishe's Self Storage in New York make the search easier with their competitive rates, flexible options, and unwavering commitment to customer satisfaction. So, when planning your self-storage strategy, remember to consider Moishe's for a service that strikes the perfect balance between cost-efficiency and quality.