First Month Free on Storage Units for First-Time Customers
When you apply for a unit for at least 3 months, you can get the first month free in accordance with our specials.
View Storage Rooms
First month free on your storage unit
Why pay for the first month in full at another storage unit when you can get your first month on us? It's part of our commitment to excellent customer-oriented service. Moishe's offers you our 100% customer satisfaction guarantee.
Our security features are higher than any other rent storage company in the New York City area. Come in today and see for yourself what makes Moishe's the storage industry leader for over 30 years.
Our customers stay with us an average of four months — the most time in the industry. 
Call (800) 536-6564 to schedule your free pick up and our experienced movers will drive one of our climate-controlled trucks to your location, load and store your items for you with us at no extra cost. Our relocation experts are highly skilled in handling bulky, heavy furniture items and transporting them. We assure your belongings will return to you in the same condition in which you trusted them to us.
Free pickup in NYC for residential and businesses
We also offer free pick up for your personal or commercial items when you live within the five NYC boroughs up to a 5 x 10 space.
You don't need to do the work yourself. Let us do the heavy lifting of moving your items from your home or business to your unit. You can stay for as little as one month or as long as…well, as long as you want! As long as you pay for your unit, you can stay as long as you want.
Best security in NYC
Moishe's Self Storage has the most security features of any self-storage company in NYC.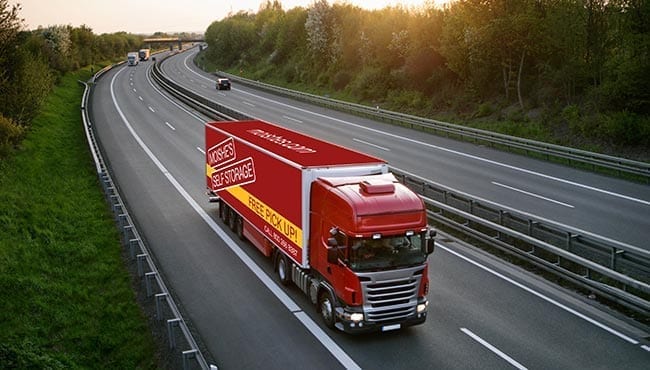 We utilize high-quality CCTV recording cameras in every hallway of our storage space. Additionally, we use state-of-the-art burglar alarms, the latest in fire suppression technology, motion detectors and security checkpoints to ensure theft prevention. When you need assistance, call on one of our team members and we will be ready to help, anytime.
When you need the first month free storage near you, call us. We will pick up your belonging s and store them for you, at no extra cost to you with our free pick up service for new customers.
Feel free to stop in at either Moishe's Self Storage locations in Queens or The Bronx near you today and ask about our first month free storage offer for new customers.
Call and speak with one of our account managers and we will help you estimate the storage size you'll need. With over 20 different size options, including customizable spaces, you're sure to find the perfect fit for all your storage needs.
---
Contact Moishe's Self Storage if you're looking for cheap full-service self-storage units in New York City to hold wine, art, furniture, luggage, household items, or other things.
View Rooms for FREE
Our Manhattan/The Bronx and Queens/Brooklyn Storage Facilities are conveniently located near you. We offer over 20 different storage unit sizes, available to individuals, students, and businesses.
Reserve your room or view specials. We'll pick up your things FREE!