New York City Cold Storage Warehouses
When you need New York City cold storage warehouses that maintain constant temperature control settings at all times, trust the best at Moishe's. We are NYC's leading provider of climate-controlled specialty self storage near you for over 30 years.
View Rooms
When you are relocating and need a place to put your things for either short- or long-term, trust the experts at Moishe's to handle your next storage solution.
Our Free Pick Up Services for New Customers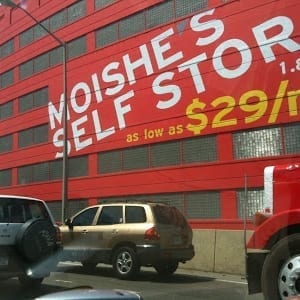 If your home or office is located within the 5 boroughs of NYC, we offer free pick up services for our smaller storage units. Not only do we offer the first month free rent in our facilities, when you call (800) 536-6564 to schedule your free pick up, our experienced NYC movers will drive one of our trucks, pick up your belongings, transport and move them into storage for you at no extra cost to you. This service is available up to a 5×10' space.
We are the city's premier provider of New York City cold storage warehouses for the fine art and fine wine industries. Trust the city's best storage experts at Moishe's to keep your belongings safe, at all times.
Moishe's Highest Security Technology in Our New York City Cold Storage Warehouses
At Moishe's, we specialize in the climate-controlled storage of fine wines for restaurants and personal collections, and fine art pieces for museums and private individuals. We are the city's leading provider of climate, temperature and light-controlled storage units, and use the most cutting-edge technology in our facilities.
We not only take the constant cool temperature of your storage into consideration, but Moishe's also constantly monitors our premises. We use state-of-the-art burglar alarms, motion detectors, security checkpoints and the latest in fire suppression technology for total theft prevention at our New York City cold storage warehouses. You won't find a cleaner, more affordable facility in the metro NY tri-state area.
Moishe's Self Storage
Feel free to contact one of our account managers today. We will be happy to help you estimate the size storage space you'll need, or you can use our handy room size calculator. When you need New York City cold storage warehouses with the most security features available on the market, call on Moishe's to deliver it. With over 20 different sizes to select from, including customizable options, you're sure to find the perfect fit for all your commercial storage needs at Moishe's. Compare room prices in the New York City area.
---
Contact Moishe's Self Storage if you're looking for cheap full-service self-storage units in New York City to hold wine, art, furniture, luggage, household items, or other things.
View Rooms for FREE
Our Manhattan/The Bronx and Queens/Brooklyn Storage Facilities are conveniently located near you. We offer over 20 different storage unit sizes, available to individuals, students, and businesses.
Reserve your room or view specials. We'll pick up your things FREE!