NYC self storage
When you need storage in NYC, look no further! Moishe's Self Storage offers the best units at the best price.
How To Get Storage In NYC — do it with Moishe's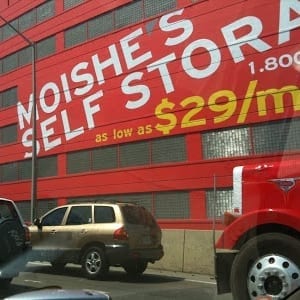 Maybe you're planning a move within the city but haven't found your ideal location yet. Or maybe you know where to move to but don't know how you're going to move there.
Why not go with the best?
Moishe's Self Storage has been the industry leader for over 30 years. Our customers are so satisfied, they stay with us for an average of 4 years; this is the longest rate in the storage industry nationwide. If you're in the market for storage that won't break the bank and will also give you peace of mind, then there's no better place than Moishe's.
What sets Moishe's apart from other companies
What makes Moishe's different from other storage NYC companies? For one, we offer impeccably clean facilities with the most security features and the best customer service you'll find in the city.
Our rooms are available in several different sizes, and they're affordable throughout the year. Visit our walk-in locations in the Bronx and Queens to see the Moishe's Self Storage difference for yourself.
Top Security For Every Unit
One aspect or service that customers expect from their NYC storage is reliable security. Unfortunately, with many storage facilities, all you will get is the opportunity to put a padlock on your unit, and that is it. Moishe's Self Storage goes above and beyond when it comes to providing quality storage.
Each of our NYC storage units at Moishe's features security staff, motion detectors, patrols, intruder alarms and 24/7 CCTV recording. Burglars do target storage units in NYC, but virtually all know that Moishe's Self Storage is impenetrable.
Contact Moishe's Self Storage if you're looking for cheap storage units in New York City to hold wine, art, or other things. Our Manhattan/The Bronx and Queens/Brooklyn Storage Facilities are conveniently located near you. We offer over 20 different storage unit sizes, available to individuals, students, and businesses. Reserve your room, view specials, or contact us.