If you access your storage unit on a regular basis, here are some tips for you. Put the most-used items at the front of the unit, use the same-sized boxes for all items, and label boxes.
For those who need a place to store items for one month or a year in New York City, we can do it for you. Self storage is great when downsizing your home, storing wine or art, or a bike. Moishe's Self Storage has over 30 years of storage experience, so if you're new to self storage or moving to a new apartment, we've got you covered.
Here are the best ways to store your unit for frequent access:
1. Pre-plan where items will go
After knowing the size of the unit you will need, you can plan where items will go. If you have space in your home, apartment, or garage, consider placing the items in the order they will go in the unit. The least used will go in the back, the items you will need the most will go in front.
2. Identify the items you will use the most
Identifying the items you will use the most is sometimes easier said than done. Seasonal items like holiday decorations, camping gear, or winter sports equipment are usually used the most. Personal items like photographs, clothing, or suitcases are used often as well.
3. Put the most-used items at the front of the unit
Put the items you will use the most — like seasonal items and personal items — at the front of the unit. You'll want easy access to these items throughout the year if you're storing for long term. You may even want to put your bike at the front for easy access as well.
4. Have a master list
Have a master list of all things stored in your unit. Keeping it all in one place will help you know what's in your unit without having to travel to the location to look through it. Keep a digital copy that can be accessed anywhere and a copy that can be placed in the unit.
5. Give yourself a map
If your unit is really large, give yourself a map to navigate your belongings. This will help you find what you're looking for without having to scavenge all your things.
6. Create aisles for navigating your items
Along with a map, create aisles to help you access your things. A line down the middle will give you access to both sides of the unit. Maybe you want to get to your kitchen items just in case. Having an aisle will let you do this.
7. Use same-sized boxes for all items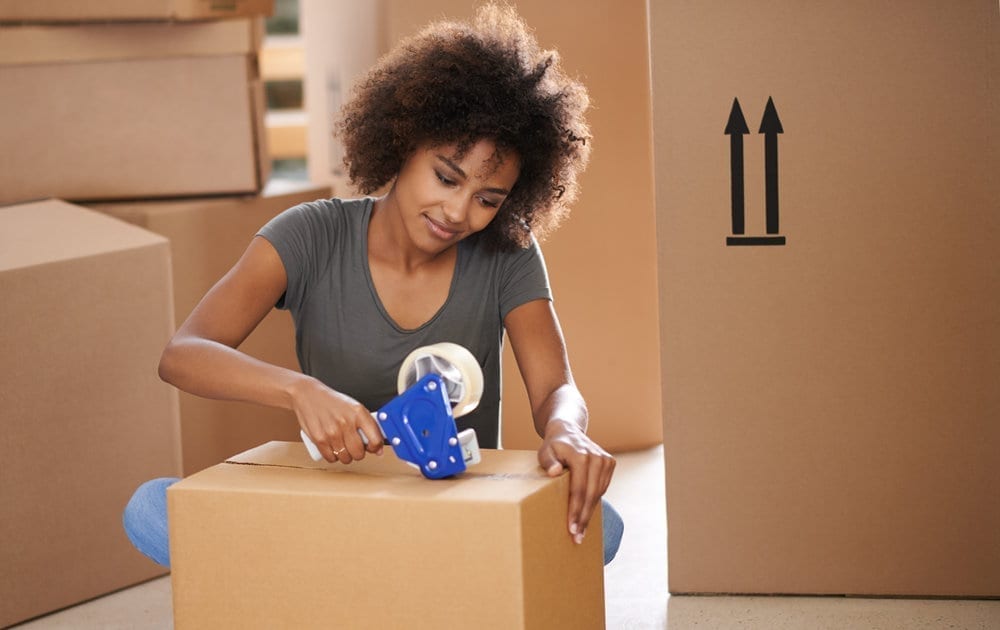 Medium-sized boxes are great for storing most items. Having all same-sized boxes allow for easy stacking and organizing within the unit. Smaller boxes won't fit your items well and larger boxes may be too heavy to lift.
8. Label boxes with what's inside
Write on the outside of the box what's inside. Use a permanent marker to list a few of the most important items inside. This helps later when you're unpacking and want to unpack the most-used items first.
RELATED: 19 Things Not To Forget — Gathering Your Moving Supplies
9. Use the unit's height as often as possible
Stacking to the ceiling will save you space. If storing a couch, for example, consider putting it on its side to save space. Our units are 8 feet tall, so that's a lot of extra space that can be used.
10. Consider using shelving
Bring your own shelving to store items, especially if you have small items you need access on a regular basis. Plastic ones may be your best option, but consider the likelihood that they may warp with heavy items for long periods of time.
11. Rent a larger unit if necessary
If you're not able to make aisles or run out of space when stacking items, you may need a larger unit. A larger space may not be that much extra. Check out our rooms to see what's best for you.
---
Contact Moishe's Self Storage if you're looking for cheap storage units in New York City to hold wine, art, or other things. Our Manhattan/The Bronx and Queens/Brooklyn Storage Facilities are conveniently located near you. We offer over 20 different storage unit sizes, available to individuals, students, and businesses. Reserve your room, view specials, or contact us.