Mini Storage NYC
Affordable Mini Storage NYC: Unbeatable Prices at Moishe's Self Storage
New Yorkers, if you're feeling the squeeze of limited space in our bustling city, you're not alone. Living in the concrete jungle comes with its challenges, especially when it comes to finding enough room for all our belongings. But fear not, because we've got the perfect solution: Moishe's Self Storage offers the mini storage NYC residents need. With its unbeatable prices, convenient locations, climate-controlled options, and top-notch security features, Moishe's is the go-to choice for all your storage needs in New York City.
Moishe's Self Storage: a New York City Staple
Moishe's Self Storage is a reliable and trustworthy storage provider with decades of experience catering to New Yorkers' unique storage needs. Moishe's has been an integral part of NYC's landscape, offering top-notch affordable storage services that have stood the test of time. Whether you're moving to a new apartment, renovating your home, decluttering your space, or need extra room for your business inventory, Moishe's has the perfect solution tailored just for you.
Unbeatable Prices for Every Budget
We understand that living in NYC can be expensive and firmly believe that storage solutions shouldn't add to your financial burden. That's why Moishe's offers a wide range of storage unit sizes to fit any budget, from the mini storage NYC residents often lean on, to large business storage units that can house a host of items. We're committed to keeping our prices competitive and transparent – no hidden fees, no surprises. With Moishe's unbeatable prices, you'll know exactly what you're paying for and get the most bang for your buck.
Our team understands that every individual's storage needs are different. Whether you need a small locker to store a few belongings or a larger unit to accommodate your furniture and other items, Moishe's has got you covered. Our flexible pricing options ensure that you only pay for the space you need.
Climate-Controlled Storage for Your Valuables
We all have items that are near and dear to our hearts – valuable family heirlooms, cherished artwork, sensitive electronics, or important documents. These items often require special care, especially in a city with extreme temperature fluctuations like NYC. This is where Moishe's climate-controlled storage units come to the rescue.
Our climate controlled storage units maintain a stable environment, protecting your belongings from temperature variations, humidity, and potential damage. Say goodbye to worrying about your delicate items suffering in extreme conditions. With Moishe's, your precious possessions are in safe hands, and you can retrieve them in the same pristine condition as when you stored them.
Convenience at Your Fingertips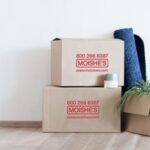 We get it – time is money in the city that never sleeps. That's why Moishe's strategically places its facilities throughout NYC, ensuring that there's always a convenient location near you. No more wasting hours on long commutes to access your belongings. With Moishe's, your storage unit is just a stone's throw away.
But the convenience doesn't stop there! We understand that busy New Yorkers don't always have the luxury of visiting a storage facility in person. That's why we've made our reservation process as easy as ordering your favorite slice of pizza. With our user-friendly online reservation system, you can secure your storage unit from the comfort of your home or office. In just a few clicks, you'll have a space to call your own, without any hassle or stress.
Security You Can Trust
We know that when it comes to storing your precious belongings, security is non-negotiable. At Moishe's, we take security very seriously. Our secure storage facilities in Queens, NY are equipped with state-of-the-art surveillance systems, providing 24/7 monitoring to ensure the safety of your items. Additionally, access to our storage units is restricted to authorized personnel only, giving you peace of mind that your belongings are safe and sound.
Our commitment to security extends beyond just electronic surveillance. We also take physical security measures seriously. Our facilities are well-lit, clean, and monitored by patrolling guards to provide a safe environment for all our customers. When you choose Moishe's, you're not just getting a storage unit – you're getting a safe and secure space for your belongings.
Expert Assistance and Friendly Service
We know that the world of storage can be overwhelming, especially if it's your first time. Our friendly and knowledgeable staff are always ready to lend a helping hand and guide you through the process. Got questions about the right unit size for your needs? Wondering about the best way to pack your belongings? Our NYC storage team has the answers! We pride ourselves on delivering top-notch customer service, ensuring that your storage experience with Moishe's is smooth, seamless, and stress-free.
Ready to Experience Moishe's Self Storage?
With Moishe's Self Storage, you're not just another customer – you're part of our extended family. We're committed to providing you with the best storage experience possible, one that is tailored to your unique needs. No matter the size or duration of your storage requirements, we've got the ideal solution just waiting for you. Whether that's some of the most affordable mini storage NYC has to offer, to large climate-controlled units, Moishe's has it all.
Ready to reclaim your space and store your belongings securely with Moishe's? We invite you to contact us online or give us a call at (800) 536-6564 to learn more about our storage options. Our team is eagerly waiting to assist you and welcome you into the Moishe's family. Your belongings deserve the best, and at Moishe's, we're more than ready to provide it! So why wait? Let's get started on your storage journey together – because with Moishe's Self Storage, your storage needs are in the best hands.